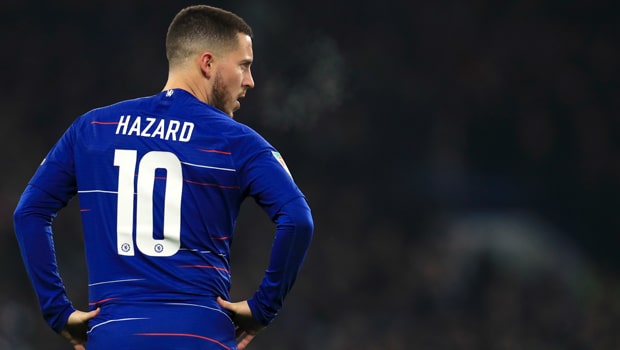 Eden Hazard said he "does not care" about criticism that comes his way from Chelsea manager Maurizio Sarri.
The Belgian was told by Blues boss Sarri that he "has to do more" earlier in the week, before he helped his team overturn a 1-0 first-leg deficit with a penalty shootout win over Tottenham in the Carabao Cup semi-final second leg at Stamford Bridge.
Hazard was influential, scoring Chelsea's second goal and also converting from the spot in the shootout to set up a clash with Manchester City at Wembley for the first major domestic silverware of the English season. After the game, Hazard said: "It doesn't matter what the manager said."
Pushed to answer questions on Sarri's apparent questioning of his influence, he added: "I don't care. I just play my football. I just want to do my best for this team."
Sarri had also said: "I prefer him [Hazard] when he speaks with his feet" in the run-up to the Spurs game but the Italian was much more positive in assessing his playmaker after they had edged out their London rivals.
Having insisted after the Premier League loss at Arsenal last weekend that the current Chelsea squad was difficult to motivate, Sarri has denied 'attacking' his players.
"I didn't attack my players. I said only that we had a problem. The problem was the motivation. We reacted very well in this match. Now we have to show continuity," Sarri said.
"Hazard was very good, especially for 60-65 minutes. Wonderful." Chelsea are 2.63 to win the Carabao Cup, with Manchester City favourites at 1.44 to win February 24 decider.
Leave a comment