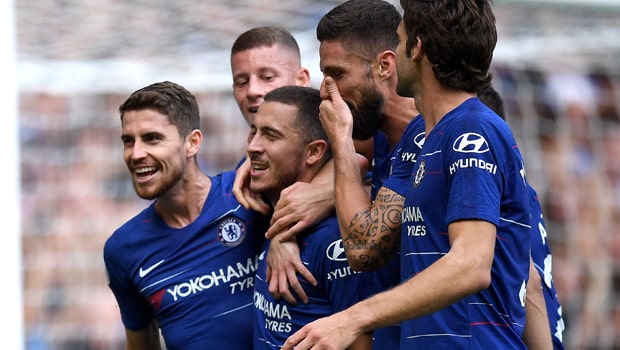 Chelsea star Eden Hazard says it feels good to be compared to the world's best players but he is adamant he is just focused on the club's success this season.
The Belgium international has been in the spotlight for the last few months after helping his country finish third at the World Cup in Russia. After taking a prolonged break, Hazard has since returned to domestic action with a bang and he has scored five goals in Chelsea's opening six Premier League games.
He has helped his side pick up 16 points from a possible 18 and he hit the headlines on Wednesday when he scored a stunning goal to help Chelsea beat Liverpool in the EFL Cup. The likes of Ross Barkley and Gianfranco Zola have heaped praise on him since the game at Anfield but Hazard insists the team's success means more to him.
He told reporters: "At the moment, I am just scoring goals, so that is why everyone is talking for me to be in the top three.
It is a pleasure to be there. I just want to keep going. "My target is to win something every year, I want to win trophies.
"We won the FA Cup last year. We knew the Premier League is going to be hard because (Manchester) City, Liverpool, they have a lot of good players and good teams. So we will give everything. "It is not important how many goals I score.
You know me, I don't care about that. I just want to enjoy my football and win games."
Leave a comment