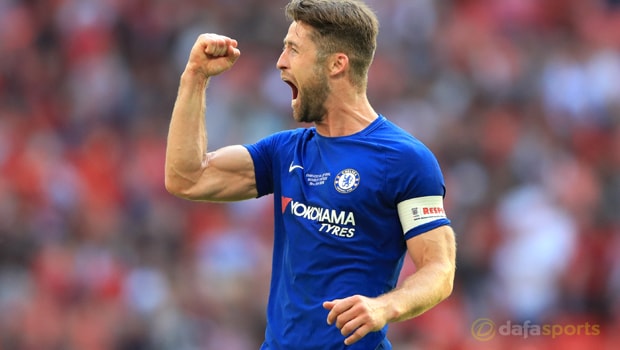 Chelsea captain Gary Cahill says the club should clarify the future of manager Antonio Conte quickly, though he appears unmoved as to whether the Italian remains at Stamford Bridge.
Cahill says he'll be content either way while adding that Conte could walk away from the Blues proud of his track record, should he choose to leave this summer.
The former Juventus coach won the Premier League title last season and on Saturday he oversaw an FA Cup final win over Manchester United at Wembley.
Chelsea however have missed out on Champions League football for next season after finishing only fifth in the league this season.
Conte has one year left of his three-year contract at Stamford Bridge but his future has been the subject of much speculation since he appeared to criticise the club's transfer policy in public earlier in the season.
"I'm sure the manager will make the best decision for himself and his family. And I'm sure the club will make the best decision they feel," said Cahill.
"It's totally out of our hands. All I can say is it's been a great finish. If the manager stays on next year, he stays on.
"If he doesn't, he's gone away with a Premier League and FA Cup. I think that's something everyone at the club can be proud of."
On the manager's future the central defender simply suggested that a quick resolution would be best for the players.
"Probably for the uncertainty to be put to bed and for whatever's going to happen to happen," Cahill said of Conte's situation.
"It's out of our hands. We have to try to deliver on the pitch. We fell short in some aspects this season but [on Saturday] we produced. The rest behind the scenes is not down to us."
Chelsea are 13.00 to win the Premier League title next season.
Leave a comment