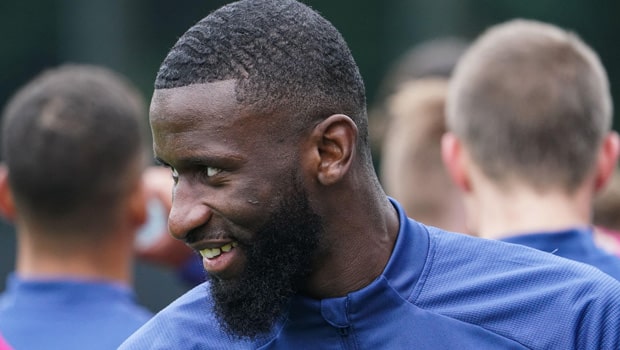 Chelsea defender Antonio Rudiger has been recently linked with a move out of Stamford Bridge. Several clubs including Bayern Munich are in the mix to sign the German centre back next season.
After hearing the reports, Rudiger has admitted that he is honoured that Bayern Munich are interested in him. However, he also added that he feels good at Chelsea. The German international's current contract will run out next June and he can speak about a pre-contract with any club including Bayern Munich if he intends to leave West London.
For the time being, Rudiger is weighing his options for the upcoming season. The German centre back will have to make a decision very soon.
The 28-year-old was honoured after hearing that the Bavarians were interested in him. However, he also admitted that he has grown as a player at Stamford Bridge and is not thinking about his next move at the moment.
"Of course, I'm honoured by [Bayern's interest] and it proves that I've been doing things right," said Rudiger at a press conference.
"But I won't let myself become distracted.
"I have an obligation to my club to perform well. I have to prove myself in every game and not let myself be distracted by rumours.
"I feel good at Chelsea where I am now, so that suits me."
Bayern head coach Julian Nagelsmann has recently praised the German calling him an aggressive defender. He also lauded his decisive nature which is required in a top defender. However, Bayern Munich Sporting Director Hasan Salihamidzic has played down the rumours.
He has raised some logical points regarding Rudiger's move to Bayern Munich. He highlighted how the Bavarians have signed Dayot Upamecano from RB Leipzig ahead of this season. He then pointed out the depth by mentioning players like Lucas Hernandez, Tanguy Kouassi, Niklas Sule and how even Benjamin Pavard can also play at the heart of the defence. So Bayern are stacked with central defenders and there is hardly any reason why they would bring in someone of Rudiger's stature.
Apart from Bayern Munich, Rudiger has attracted interest from Real Madrid and Paris Saint Germain. It will be interesting to see how Tuchel replaces a player like Rudiger in defence. The 28-year-old has been a vital cog in their Champions League win last season and has been a regular starter this season.
Leave a comment