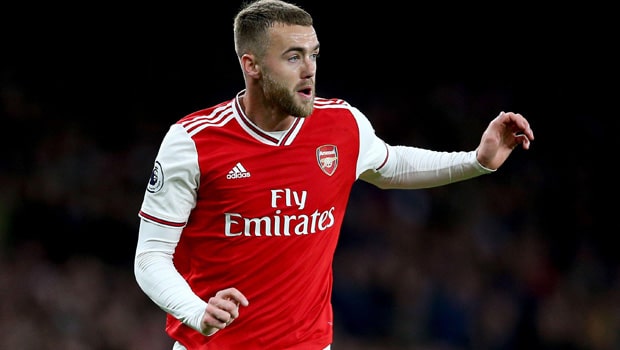 Arsenal moved forward to the quarterfinal round of the Carabao Cup following 2-0 win over Leeds United.
The fixture was tied at the break, but the Gunners found the back of the net twice in the second half thanks to Calum Chambers and Edward Nketiah.
"He totally deserved it," Arsenal coach Mikel Arteta said of Chambers' goal. "It was a great moment because he helped us to win the game. He is someone who deserves the best, for how he is as a person and a professional."
Chambers opened up the scoring in the 55th minute. Leeds goalkeeper Illan Meslier looked — initially — to save Chambers' header. But VAR rule it a goal.
"I have full belief that he is going to be a top, top player and hopefully at Arsenal," Arteta added.
Chambers was only used in Tuesday's match because Ben White was unable to continue playing after feeling under the weather.
"Clearly the differences between the first and second half came after the goal," Leeds United manager Marcelo Bielsa noted.
Arsenal are looking to win the Carabao Cup for the first time since 1993. Leeds were looking to win on the road vs Arsenal for the first time since 2003. That streak continues.
"We conceded a goal, the goal that we conceded was at the start of the second half, after that the game wasn't the same," Bielsa added.
Nketiah made it two-nil in the 69th minute. Arsenal had actually sent Nketiah to Leeds when they were in the Championship, but Bielsa's side never played him much. Tuesday he scored a goal vs a familiar side.
"It's always nice to play, it's been a while, I have been working hard, waiting for my opportunity," Nketiah said.
Nketiah has quite the track record in the Carabao Cup. Five goals in 6 appearances for Arsenal; 7 goals in 8 appearances total.
Leeds actually won the battle of possession 56-44, but Arsenal had 10 corners vs just four for Leeds.
"We want to go all the way," Chambers said. "A club like Arsenal, needs to be going all the way and competing for silverware in every competition."
Arsenal are back in Premier League action this weekend vs Leicester City. Leeds look to get back on track vs Norwich City this Sunday.
Leave a comment