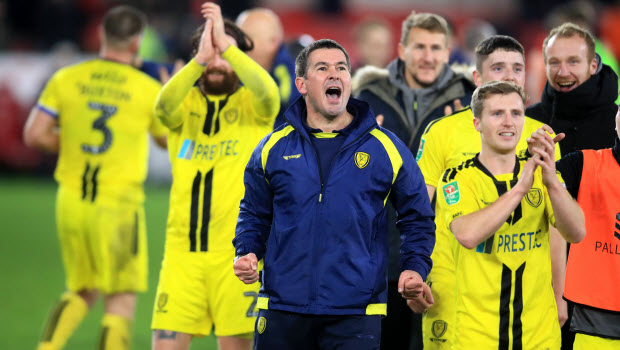 Burton Albion boss Nigel Clough insists his team's progression to the final four of the EFL Cup was a "remarkable achievement" after they beat Middlesbrough on Tuesday night.
The Midlands outfit reached the final four for the first time in their history thanks to James Hesketh's strike at the start of the second half.
Hesketh's powerful drive proved too much for Boro keeper Darren Randolph and the League One outfit managed to hang on for the win.
Burton have now overcome higher-ranked opposition in four of their five League Cup ties this season and they are the first third-tier team to reach the semi-finals since Sheffield United did so in 2014-15.
The Blades were also managed by Clough on that occasion and he insists it is a special day for the club. "Ninety-two clubs come into the competition and Burton Albion in the last four, it's absolutely remarkable," he said.
"We've beaten [Aston] Villa, [Nottingham] Forest, Burnley and now Middlesbrough to get to this stage. "You always need a little bit of luck in any cup competition and we got a bit tonight, but I thought we earned it.
We played very, very well at times." Burton are now just two games away from reaching Wembley but Clough insists he is not getting carried away despite their progress. He added: "Highly unlikely, when you look at the teams that are left in.
That's just being realistic. "We are going to enjoy this one for a couple of days before we go to Luton on Saturday for as hard a game as there will be this season, and then we are going to park it and look forward to it in the New Year."
Leave a comment