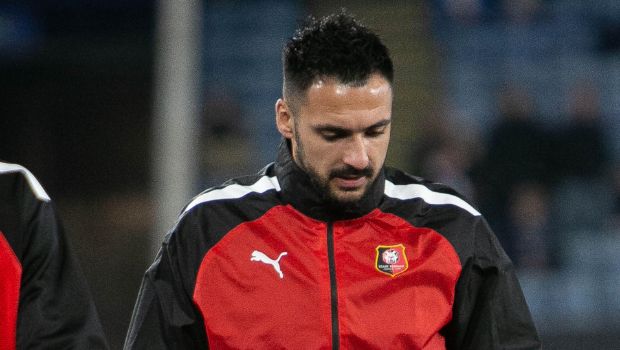 After Gaëtan Laborde made a summer switch from Stade Rennais FC to OGC Nice, he has found it challenging to find his cutting edge
Although settling into a new environment and team was difficult, the striker looked to be returning to his old self before the winter break interrupted his firm.
Speaking with the club website, Laborde, who has now reunited with former teammate, Andy Delort, said his first few months at the club were unsuccessful.
He further explained that he had hit the woodwork quite a lot, and the goalkeepers had made big saves from his shorts.
According to him, things have been fine in terms of his input.
Speaking further, Labored explained that he tried to bring what he did at his previous clubs, which included a lot of running, generosity, and a very good state of mind.
"In the last few games, I've been successful and found the net again. It's never easy to change clubs, to be in a new dressing room and a new context, so it took me some time to adapt. Off the pitch, everything is gradually coming together as well well," he pointed.
Having sorted the necessary things he needs to some kind as he adapts to his new environment, he discussed his adaptation with Delort.
He pointed out that since his arrival at the club, he had hit the posts four times. But if they'd gone in, it would have been said that his adaptation was exceptional.
"I could have made two or three assists, but my teammates also hit the woodwork… Things would have looked different if all these opportunities had ended up in the back of the net. But that's football."
Admitting that sometimes, the shots that hit the post go in, and they sometimes go out, Laborde said he is now looking further ahead than that.
While noting that his fortunes have changed a little bit, the striker wants to continue on that path.
Noting that he can't revolutionise everything in the team that's having a few problems, the striker said it's also part of why his adaptation was more difficult than at Rennes.
"Over there (Rennes), the dynamic was completely different; it's easier to get into a team where everything works well, where everything runs super-smoothly," he added.
On his recent goalscoring form that coincided with the world cup break, he said it didn't come at a bad time as the team had played a lot of games during the first part of the season, and they needed to rest physically.
Nice is currently ninth on the league table with 20 points.
Leave a comment