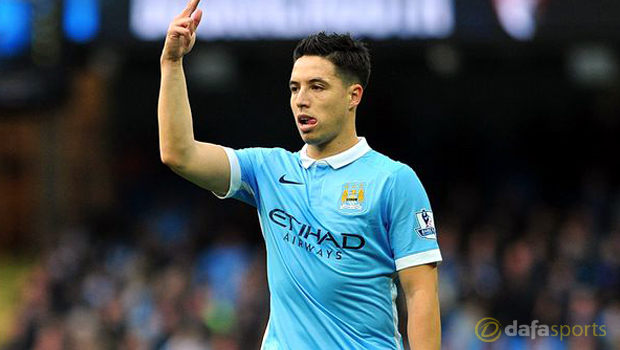 Manchester City playmaker Samir Nasri hopes to be back in action next month following a thigh injury that required almost 100 stitches.
The Frenchman has been sidelined since last autumn after sustaining damage to a thigh muscle and tendon in a freak training-ground injury.
"We had a session after the October international break and everything was going well," Nasri told the Manchester Evening News.
"Then, right at the end, I played a one-two with Fernando and the ball was a little bit behind me – we were playing two-touch – and I had the ball ready to shoot but I could see Aleks (Kolarov) coming from behind me.
"I hesitated before I shot and wasn't quite sure what I was going to do. I went for the shot and as soon as I did, I felt my leg going from under me with no challenge and I just screamed as I hit the ball, because the pain was so intense, and collapsed on the floor."
At one point, Nasri feared his season was over although the 28-year-old does not expect to play a part as the Blues push for silverware this term.
The former Arsenal star added: "With this injury I had to have an operation that resulted in nearly 100 stitches in my thigh.
"My surgeon told me this was a rare injury as the muscle had detached from the bone and the tendon was also 90 per cent detached and had to be stitched back together so it was something that doesn't happen very often."
City are the 2.25 favourites to win the Premier League this season and 12.00 to secure Champions League glory.
Leave a comment