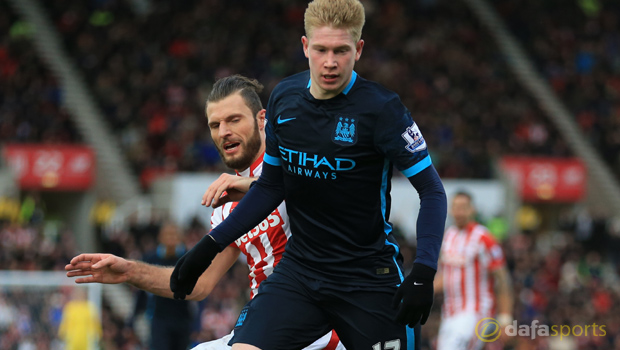 Manuel Pellegrini says paying £54m for Kevin De Bruyne was a risk that Manchester City were willing to take.
The Belgian had previously failed to make an impact on the Premier League during his time at Chelsea but, according to the City boss, the club were confident his style of play would be a perfect fit for them.
The 24-year-old has already found the net nine times since arriving at the Etihad Stadium in August.
"Maybe it was a risk to pay the amount of money for Kevin. He was here before in the Premier League, but we were so sure that in the style that we play, he would be successful," Pellegrini told Sky Sports.
The midfielder was rarely given a chance to show his skills under Jose Mourinho at Stamford Bridge, starting just twice in the league for Chelsea.
That prompted his decision to seek a move away and he joined Wolfsburg in January 2014. He excelled at the Bundesliga outfit, helping them to finish second to Bayern Munich and secure a return to the Champions League.
Pellegrini says City were convinced he was the right player for them, but the Chilean added that only the passing of time and success on the field will prove if they were right – despite De Bruyne's early impact on his team.
"You never know if a player is a very expensive player or a cheap player. It will depend on how the season develops," he added.
"If you don't win any silverware, maybe you will receive a lot of criticism about the players that you bought."
Manchester City are 2.50 to win the Premier League this season while they are 1.29 to win their next game, at home to Swansea on Saturday.
Leave a comment