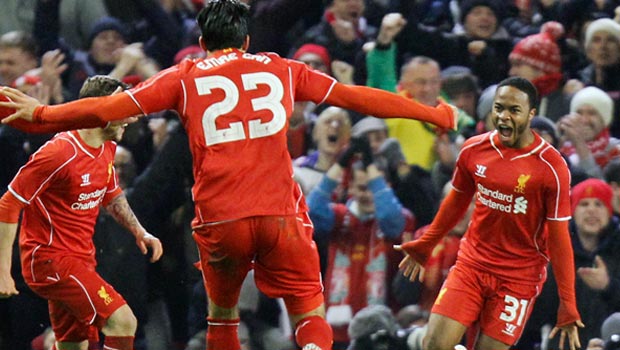 Liverpool starlet Raheem Sterling believes there are facets of his game he can improve on as he looks to settle into his more central role at Anfield.
The highly-regarded England international started life with the Merseysiders on the wing under manager Brendan Rodgers, who has decided to move the 20-year-old into a more central attacking position this season.
With Luis Suarez leaving last summer and Daniel Sturridge out through injury, the Reds have been struggling to fill the void up front.
It now appears Sterling will be the man to possibly partner Sturridge upon his return and the youngster is determined to get his name on the scoresheet far more over the coming months.
He was quoted by Sky Sports as saying: "It is a role I am learning and adapting to, but that is something if you want to be a good player you have to adapt to different positions, and that is something I am keen on doing.
"When I get in front of goal sometimes I get a bit excited thinking I've done it all, but now I am keeping focused and trying to get my game to the next level and chip in with more goals and assists.
"I have personal targets but I don't want to share them in case I don't reach them, but I always set myself goals and standards I want to meet and that is no different this season."
Sterling will be looking to add to his goalscoring tally when Liverpool return to Premier League action later this month against West Ham.
The Reds are 1.63 to win, 3.73 to draw and 5.31 to lose against the Hammers at Anfield on January 31.
Leave a comment