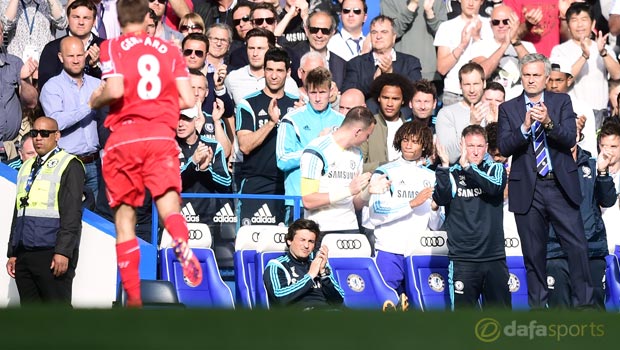 Steven Gerrard had admitted he was tempted to sign for Jose Mourinho when the Chelsea boss pursued him during his first spell in charge at Stamford Bridge.
The Liverpool captain was a target for Mourinho at Chelsea in the summer of 2005 while the Portuguese also tried to sign the midfielder for Inter Milan and Real Madrid.
Mourinho has heaped praise on the former England midfielder in recent days and Gerrard scored Liverpool's goal as the champions were held to a 1-1 draw by Brendan Rodgers's team at Stamford Bridge on Sunday.
Afterwards, Gerrard admitted he was tempted to link up with Mourinho earlier in his career, but the desire to remain loyal to Liverpool stopped him in his tracks.
"I have huge respect for him. He's the best manager in the world. I would have signed for him on three occasions if I wasn't such a big Liverpool fan.
"He's the reason my head was turned on a couple of occasions but he knew why I couldn't do it, because I love Liverpool Football Club. It always means more when you win for your people," Gerrard said.
Gerrard will take his final bow at Anfield on Saturday when Liverpool face Crystal Palace, a game the Reds are 1.43 to win.
The Reds captain said it will be tough to move on from Anfield but he has no regrets when he looks back on his stellar Reds career.
"It's very difficult at the moment," said Gerrard. "It's going to be difficult to let go. I've been here 27 years.
"I'm walking away with my head held high, I'm really proud of what I achieved here. There have been some lows too but it's a part of being a footballer."
Leave a comment