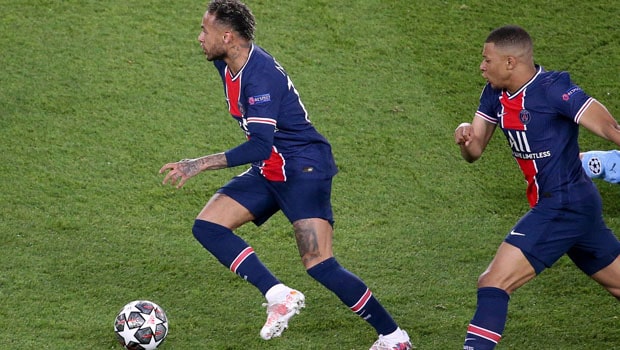 PSG star Neymar has revealed the update on his contract extension talks with the Ligue 1 champions, saying everything is nearly sorted.
This is expected to be a relief for the club fans who are unsure of his future, as speculation says he could delay the talks further and wind down his present deal to be later available on a free transfer, which could aid his return to Barcelona. Such a situation will see him reunite with Lionel Messi, who is likely to sign another extension at Barcelona.
Speaking to RMC Sport, a Brazilian attacker, whose current deal expires in June 2022, said nothing is pressing as his representatives are in talks with PSG.
He added that he is at ease and truly very happy to stay at the club he led to the Champions League final. PSG is currently in the semi-final of the tournament.
Speaking on the absence of fans from the stands due to the COVID-19 pandemic, the Brazilian captain said he couldn't wait to see them return to cheer the team to victory.
PSG already expressed the belief that Neymar will sign an extension until 2026.
In another development, Kylian Mbappe might succeed in securing a move to Real Madrid – the club of his dream.
Although the club management wanted to tie down the world cup winner, whose contract expires next season, to another long-term deal alongside his strike partner, Neymar.
But if he decides to move to Madrid, as PSG is not ready to risk losing him on as a free agent, they may swap him for Real Madrid center-back Raphael Varane.
Since joining the Les Blancos from Lens in the summer of 2011, Raphaël Varane has become an important player for the La Liga champions, winning 4 Champions Leagues (2014, 2016, 2017, and 2018), 4 Club World Cups (2014, 2016, 2017 and 2018), 3 Liga (2012, 2017 and 2020) or even the 2014 Spanish Cup during the process.
The French central defender also has one more year on his current deal.
Meanwhile, PSG lost 2-1 to Manchester City in the semi-finals of the UEFA Champions League.  Marquinhos scored a brilliant header from a corner which out PSG ahead in the first half. However, Kevin De Bruyne and Riyad Mahrez both scored in the second half to give Man City a crucial away victory.
Leave a comment