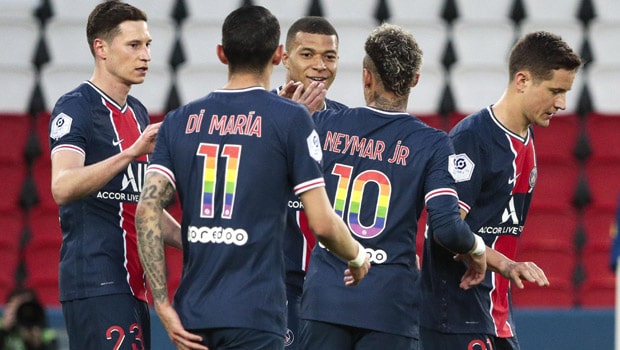 It is no longer news that Lille has pipped Paris Saint-Germain to the Ligue 1 title, ending their dominance of seven years.
PSG had struggled before the season with injuries and COVID-19. There were also off-field distractions which led to poor results against their rivals. The likes of Neymar and Kylian Mbappe, Moise Kean, Angel Di Maria and co had struggled with injuries in a season they couldn't have a successful preseason due to the COVID-19 pandemic.
The capital club now has to regroup and build ahead of a first full season under Mauricio Pochettino, who replaced Thomas Tuchel.
Reacting via his social media page after their game, Mbappé, who won his third League highest goalscorer award, said the team has itself to blame for losing eight games in the season. While congratulating Lille for winning the title, he described them as a worthy champions.
The season got tensed with two games to go as Lille was leading the table with three points. It got tensed when Lille drew their week 37 game against Saint Ettiene while PSG won theirs, making the gap closed to one point. The former Champions then did the business at Brest with a 2-0 win, but Lille didn't allow such an opportunity to slip past them with a 2-1 win at Angers.
Although they drew just one of their last seven games while winning six, their start was the problem.  This could be due to their participation in the Champions League final while the League began.
But the same can't be said of Bayern Munich, which started their League around the same month. The Bavarian club went on to win the title, and Robert Lewandowski went on to break the 49-year-old Bundesliga season record with 41 goals.
PSG will be ruing the mistake made by allowing several players to go on holiday to Ibiza. Most of them returned with COVID-19 infection, ruling them out of some of the earlier games in the season. They missed Neymar mostly, who also had to battle injuries and suspensions.
The trouble of the former champions began with a host of players in isolation, losing to promoted Lens in the process.
A few days later, they suffered another 1-0 loss to Marseille – in a game Neymar returned, only to be red-carded alongside two other PSG players. This left them seven points behind Lille, with a game in hand.
The other reason for their failure n the League this season was their home defeat and managerial change. Mauricio Pochettino didn't hit the ground running on the domestic front but was given credit for taking the club to the semi-finals after defeating Barcelona and Bayern Munich in the last 16 and quarter-finals.
Leave a comment