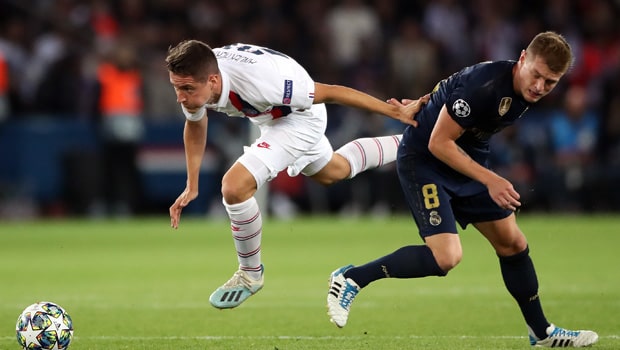 Paris Saint-Germaine midfielder Ander Herrera has said it wouldn't be fair to compare Manchester United to the Sir Alex Ferguson era.
The Spaniard is speaking to reporters ahead of today's meeting in the UEFA Champions League. It will also afford Edison Cavani, who recently joined the Old Trafford club, an opportunity to play against his former employers. The Uruguayan, the club's all-time highest goal scorer, left last summer on a free transfer alongside Thiago Silva.
While noting that a lot of competition exists in England now compared to Ferguson's era, he said there are now more title contenders in the league. He gave an instance of Tottenham Hotspurs, who have made a lot of improvements in recent years.
Therefore, he said since it is a new football era, what Ferguson achieved is just incomparable.
Also speaking at the press conference, PSG coach Thomas Tuchel on Manchester United noted that the Red Devils remain one of Europe's best teams in transition.
Tuchel, who praised his opponent ahead of today's clash, said there had been changes in United since they met, with new faces in their line up.
While nothing that the Old Trafford outfit also has more experience, the German tactician pointed out that Paul Pogba is the key player. While describing the french midfielder as one of the best in the world, he said PSG needs to watch him closely like Bruno Fernandes, who took no time to settle into the squad.
The Portuguese became match changer for Ole Gunnar Solksjaer's men, getting them the maximum points last season when it mattered most as they returned to Champions League football.
Herrera, who also corroborated his coach on qualities of Pogba, who he played alongside during his stint at the Old Trafford, said there is not complete midfielder like him, adding that he has it all as a footballer.
He explained further that Pogba could play one vs. 1, attack, and be a box to box midfielder as well, depending on the coach's formation.
As he now plays deeper since Fernandes' arrival, Herrera said Pogba could be nominated for the Ballon D'Or if United wins titles.
Leave a comment