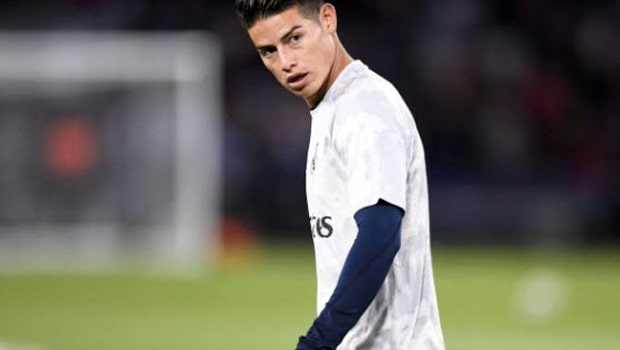 Colombia and Real Madrid's midfielder, James Rodriguez has been ruled out football action for the rest of the year with a knee problem while with the Colombian national during the international break.
The 28-year old was invited for exhibition games against Ecuador and Peru but left the team's camp in Miami in the US sooner rather than later after damaging his left knee in training on Thursday even before any of the matches was played.
The call up is the midfielder's first invitation to the national team since the Copa America held in Brazil this summer.
Meanwhile, the midfielder will be out of action for close to two months if information from various Spanish media outlets are to be taken seriously.
Thus, he will play no part in the El Clasico on the 18th of December. Previously, the 28-year old had damaged the same knee after injuring the Ligaments while at German Cubs, Bayern Munich last season which needed a surgery to correct.
According to a statement by Capital club, the player underwent a series of tests under the watchful eyes of Doctors and medical team, and albeit they failed to disclose any official return date for him, he is expected to spend at least three weeks minimum on the sidelines.
He will also miss the team's tie against Valencia a few days before the El Clasico, and in total, he could miss five games.
In nine games played so far James this season, he has only scored once, a stat which suggests that the Zidane led side can do without him, at least for now. He was also injured for a while this season with a Muscle problem.
Real Madrid are second behind arch-rivals Barcelona in the Spanish La Liga this season on goal difference after garnering 25 points from the first 12 games and will host Real Sociedad in their first game after the international break on the 23rd of November at the Bernabeu.
Leave a comment