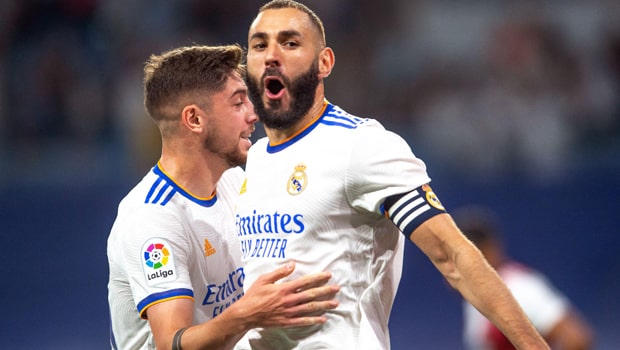 French striker Karim Benzema scored a hattrick as Real Madrid came from behind to defeat Celta Vigo 5-2 at the Santiago Bernabeau on Sunday evening.
It is the first time that the team will be playing a game at the Bernabeau since March 2020 due to the reconstruction works done on the stadium which forced the team to use the Alfredo Di Stefano last season.
Mina Lorenzo had given the visitors a fourth minute lead before Benzema equalised four minutes later but the equalizer was for seven minutes as Cervi put the visitors ahead going into extra time.
However, Benzema equalised immediately after the restart with a well placed header before Vinicius Jnr and Eduardo Camavinga who joined in the summer scored to extend Real Madrid's lead.
Vinicius Jnr was brought down in the box late in the game and Benzema stepped up to make it 5-2.
Similarly, defending champions Atletico Madrid left it late against Espanyol to secure all three points and like their city rivals, Diego Someone's men had to come from behind to get the win.
Promoted Espanyol took the lead just 5 minutes before the break but none followed from the home side as Atletico piled the pressure.
15 minutes into the second half Thomas Lamar found the back of the net but saw the goal cancelled.
However, their pressure paid off when Yannick Carrasco scored with about ten minutes left.
Atletico them won the game when Carrasco provided Lamar with the winner in the 99th minute after a lengthy added time.
Meanwhile, Real Sociedad beat Cadiz 2-0 while Valencia won 4-1 against Osasuna.
Real Madrid and Atletico will turn their attention to Europe when they both face Inter Milan and Porto respectively in the UEFA Champions League which starts on Tuesday.
Leave a comment