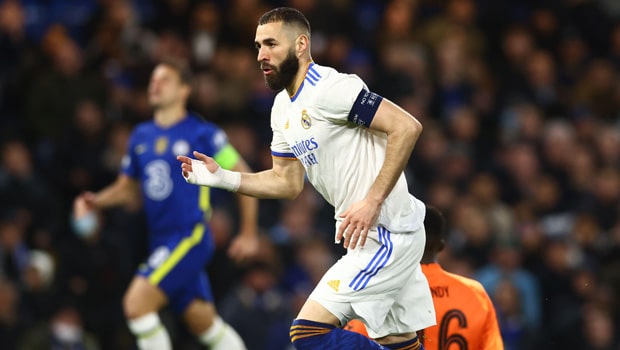 French striker Karim Benzema scored a hattrick on Wednesday evening as Real Madrid beat Chelsea 3-1 in the first leg of their quarter-final fixture of the UEFA Champions League played at Stamford bridge.
Benzema, who scored a brace of penalties for Real Madrid against Celta Vigo in La Liga at the weekend, was also in top form to exact a second successive defeat for the Blues.
It is also his second successive hattrick in the UEFA Champions League this season after scoring a hattrick in the second-leg fixture against Paris Saint-Germain in the round of 16, which Real Madrid won 3-1 at the Bernabeu.
Thomas Tuchel's side was well beaten 4-1 by Brentford in the Premier League at the weekend before Wednesday's crumbling against the team they beat on the way to the UEFA Champions League title last season.
It was a return to Stamford Bridge for Carlo Ancellotti and two wonderful headers from the French striker within five first-half minutes set the tone for the victory.
Although Kai Havertz pulled one back for Chelsea at halftime, it was a huge error by Senegalese goalkeeper Eduard Mendy that gave Benzema his third goal on the night.
Chelsea will now travel to Spain next week for the return leg, but they will first face Southampton at St Mary's Stadium, while Real Madrid will also host Getafe in the La Liga.
Real Madrid manager Carlo Ancelotti does understand that the tie isn't over, having revealed that his team only has an advantage ahead of the second leg.
"We have an advantage. We have to prepare for the next game in the league, and then Tuesday will be another game. We have a lot of respect for this team who were the winners of the last Champions League." Ancelotti stated.
Meanwhile, Villarreal ended Bayern Munich's unbeaten away run in the UEFA Champions League with a 1-0 win courtesy of Arnault Danjuma.
Leave a comment