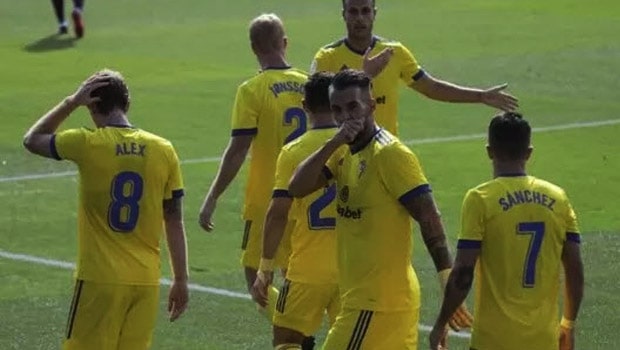 Newly promoted La Liga side Cádiz started their season with the big boys by suffering a heartfelt loss to Osasuna 0-2. They did get a perfect chance to bounce back a week later, traveling north to visit Huesca, another promoted club, but who unlike Cádiz had opened their season on a positive note drawing 1-1 against the established La Liga club Villarreal. Cádiz and Huesca had faced each other last season in LaLiga2 twice, with Cádiz taking three points at home 1-0 and drawing up north 1-1.
The home team was, by all accounts, the more active side in the game. They dominated the possession of the ball for 71% of the time and barely allowed Cádiz to enter their side of the pitch. Huesca's possession did not result in goal-scoring chances, though. Through the whole game the home side created four distant chances, but not a single shot on goal. Cádiz defense did their part, being there when needed, but Huesca's offensive efforts definitely left a lot to be desired for after such dominance in possession.
Cádiz's tactics worked wonders as Huesca grew more and more frustrated and sloppy by not finding any openings in the defense of the visitors and those visitors were absolutely clinical with their few chances. It was the journeyman striker returning from United Arab Emirates to his father's lands giving Cádiz the lead in the 11th minute. The 35-year old arrival from Al Nasr arrived on scene right on time to place in the rebound left lying in front of the goal by Huesca keeper Andres Fernandez.
Huesca had to chase the lead for over 70 minutes, failing at that despite the possession and working their socks off. Cádiz then managed to hit back on a counter attack late in the game, with Filip Malbasic sending a floating cross towards wide open Jorge Pombo, who then headed in the final 0-2 score on the 83rd minute. The home team has every right to be frustrated with the result, but credit where it's due: Cádiz showed some solid defending while surgically slotting in the goals needed for their first win of the season.
Leave a comment