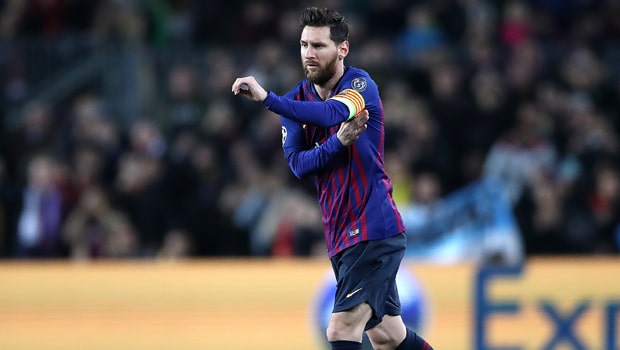 Lionel Messi scored his 400th La Liga goal on Sunday as he helped Barcelona to a routine 3-0 win over Eibar at Camp Nou.
Messi, the all-time leading scorer in the Spanish top flight, slotted his teams' third goal after a double from Luis Suarez put the league leaders in control.
Champions Barcelona lead the way by five points form Atletico Madrid after 19 games. Real Madrid climbed to fourth by beating Real Betis thanks to a late winner but they remain 10 points behind Barca.
The latest of his landmark goals arrived in the Argentine's 435th league game. In notching his quadruple-century, Messi became first player to score 400 goals in just one of Europe's top five leagues.
The mercurial 31-year-old is the second player to score 400 goals across Europe's top five leagues, following long-time rival Cristiano Ronaldo.
The Portuguese achieved his tally with strikes in England, Spain and Italy for Manchester United, Real Madrid and Juventus. Messi has reached 400 goals 63 games less than Ronaldo reached the same milestone.
Ronaldo is the distant second-top scorer in La Liga history, having scored 311 goals in 292 games at Real Madrid before departing for Serie A last summer.
Messi has scored against 37 different teams in La Liga during his career, the most by any player in the competition history.
Sevilla is the club on which Messi has inflicted most damage, scoring 25 goals in just 24 games against the Andalusian side.
Leave a comment