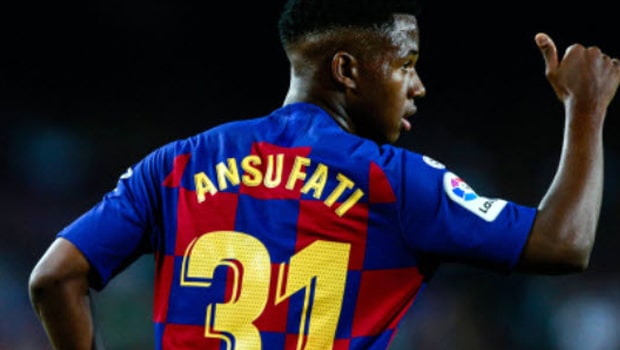 Ansu Fati has enjoyed a meteoric rise at FC Barcelona this season, and this weekend's showing proves that Fati is here to stay.
Barcelona has put their slow start to the season behind them, thumping Valencia to a 5-2 win and announcing themselves as still maintaining their championship quality. They have ultimately proved that playtime is over and can they thrive without their talisman Lionel Messi.
Who else gives them that hope other than the 16-year-old Ansu Fati, the new kid on the block who is running the show at the Camp Nou. The 16-year-old on his first start for the Catalan club scored the first goal just inside of two minutes before setting up Frenkie de Jong for the second.
For the most part, there are usually cobwebs to be blown away just after the International break, but the Blaugranas were having none of that. They have a lineup of seven big games but will be bolstered by the fact that they have won the first of those seven by a very comfortable margin.
Luis Suarez came on a substitute having been sidelined for a while, and he marked that response with a second-half brace in Suarez-esque fashion. Barcelona had gone three matches this term winning just once, losing one and drawing one but they are now in the mood and are hitting their stride. Their propelling force was Ansu Fati who smelled of killer instincts all through, the sort that was typical of peak Suarez.
The Guinean forward scored the first and set up the midfielder De Jong for the second. However, it was the pass to the former Ajax man that caught the eye of many football fans. It oozed maturity and patience. The forward cut back from the byline to gift a pinpoint pass to the Dutch midfielder.
He is the youngest player ever to assist and score a goal in the same La Liga match. A teeming crowd of over 80,000 who sought to see Messi play will take solace in the fact that a teen sensation is looking increasingly comfortable on the big stage.
Perhaps, in a few years to come, they can boldly say that they were there at the very beginning. Another La Masia academy has come to steal the show, and they might sooner than they thought find a talisman that could replace Messi should the Argentine seek to leave anytime soon.
Leave a comment