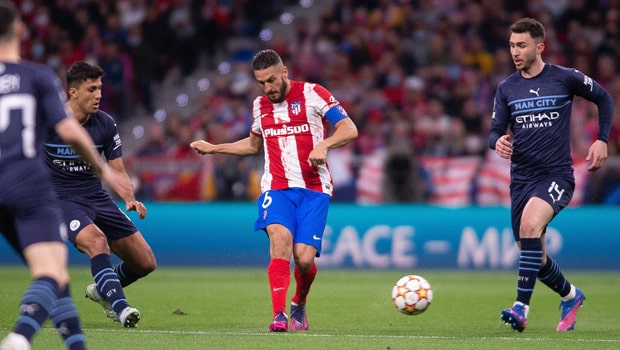 Atletico Madrid midfielder Koke has explained that his team did everything they could in their bid to secure qualification to the semifinals of the UEFA Champions League when they played a 0-0 draw with Manchester City at the Wanda Metropolitano stadium on Wednesday evening.
The clash was the second leg of their UEFA Champions League quarter-final fixture after losing 1-0 in the first leg last week.
The team came under intense criticism for what was tagged negative football after playing a 5-4-0 formation for a large part of the game.
Atletico Madrid failed to have any shots in their 1-0 loss last week in England, and City, who is known to be an enterprising attacking side, also failed to register up to three shots on target all game.
Koke revealed that he was proud of the performance of his teammates even though they couldn't get the desired results amidst the criticisms.
"I'm proud of my teammates and all of our fans. We had so much desire and hunger in order to achieve what we've done so far in this competition, and now we can be proud of what we tried to achieve here, but we couldn't quite reach the semifinals. We tried with everything we had until the very last seconds. We just lacked the goal we were trying for." Koke
Coming into Wednesday's clash, Diego Simeone's side knew that they needed to score at least a goal to force extra time without conceding as well. The La Liga champions also lost to Mallorca in the league last weekend.
Neither side could find the target in the second leg in what was a temperamental game for most of the night, climaxing in a highly physical brawl.
Nevertheless, Manchester City moved into the semifinals, where they will face Real Madrid, who beat Chelsea 54 on aggregate after a 3-2 loss (AET) at the Santiago Bernabeu in the second leg.
Leave a comment