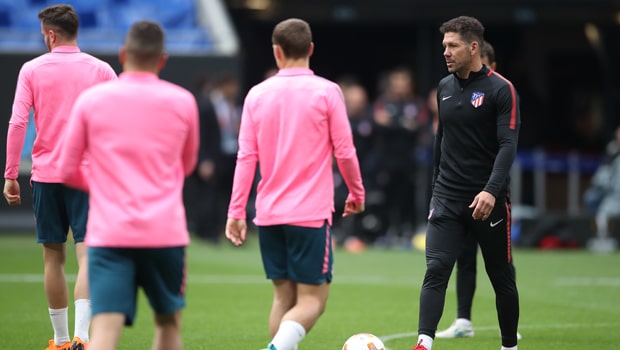 At first, it looked like Spanish La Liga might be different this year, with dominating duo Real Madrid and Barcelona somewhat struggling early on. After eight games played, everything seems normal once again with Real leading the pack at 18 points and Barcelona being second with 16. And, as usual, third spot is reserved for Diego Simeone's small but feisty Atletico Madrid.
While Atletico has managed to climb to top three once again, their season has not been as illustrious as it might appear. They've only won four games out of eight, losing once and drawing three. Just before the international break they drew 0-0 on the road with minnows Valladolid and they've already lost 2-0 at Real Sociedad. Those goals allowed, by the way, were half of their total in La Liga this season.
Needless to say, Atletico's strongest weapon – not a secret one – is their unbeatable stonewall defense. Diego Simeone is well known to his defensive genius and he has worked his magic once again: Atletico has only allowed four goals in eight La Liga games. Juventus managed to score twice in the Champions League, but against Lokomotiv Moscow Atletico kept a clean sheet, as they've done in six La Liga games.
While the defense is still rock solid, something is off. It was expected, in a way, after the departure of Antoine Griezmann, but their goal scoring form has been even worse than usual. They've scored only seven goals in total and being held scoreless for four times. Admittedly, the scoreless draw against the likes of Real Madrid is not actually a bad result, not being able to get one single ball in the net of Valladolid, Real Sociedad or Celta Vigo spells trouble.
Diego Simeone might be a defensive guru, who wins games by teamwork, physicality and work ethics, but he is not a tactical wizard when it comes to organizing a prolific offense. He has decent tools at his disposal in the offense, with João Felix, Diego Costa, Koke, Vitolo and Alvaro Morata leading the line, but the results have been worrying so far. Felx and Vitolo have scored two each, leaving three single goal scorers. For a team looking to challenge Real Madrid and Barcelona, that is simply not enough and Simeone will need to start finding solutions to their goal-drought – nil-nil's will only take you so far, probably the third place once again.
Atletico is looking to score next against Valencia on Saturday
Atletico Madrid vs Valencia (1×2): 1.66 – 3.60 – 5.60
Leave a comment