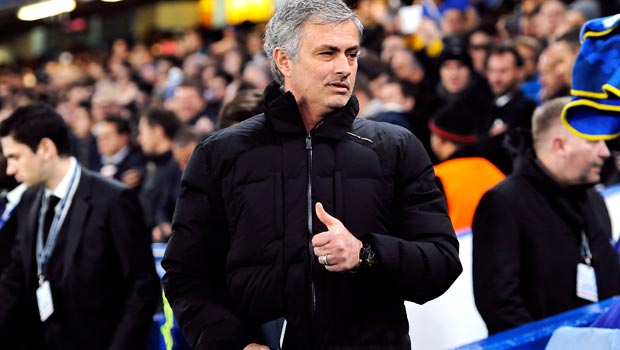 Manager Jose Mourinho has called on Chelsea's fans to help the side rise to the occasion against Paris Saint-Germain in the last 16 of the Champions League on Wednesday night.
The Blues secured a 1-1 draw in the French capital in the first leg of the tie after Branislav Ivanovic's 36th-minute opener was cancelled out by an Edinson Cavani header early in the second half at the Parc des Princes.
The Premier League leaders now entertain PSG in west London and Mourinho has attempted to inspire the home support as Chelsea look to knock the French outfit out of Europe again.
Twelve months ago Mourinho's men needed a late Demba Ba strike to beat the Ligue 1 champions on away goals at the quarter-final stage having lost the first leg 3-1.
The Portuguese said: "Champions League, in the knock-outs, you need a bit of luck in the details in specific moments.
"To score a goal in the last minute, even if you do a lot to try to be lucky, it's a lucky detail. Last season we had that.
"If somebody has to be a little bit magic, it's the crowd. We played a semi-final here against Liverpool a few weeks ago and it was fantastic.
"The crowd was extra. So, the same way in Paris we had a fantastic stadium supporting the home team."
Chelsea are 1.37 to reach the quarter-finals of the Champions League in what they hope will be a trophy-laden season following the Capital One Cup final victory over Tottenham at Wembley.
Mourinho added: "You feel comfortable to play if it's something you do a lot of times. It's one more game, in spite of being a knock-out game and the second leg, so you're calm."
Midfielder Nemanja Matic is set to return to Mourinho's side following a domestic suspension.
Leave a comment