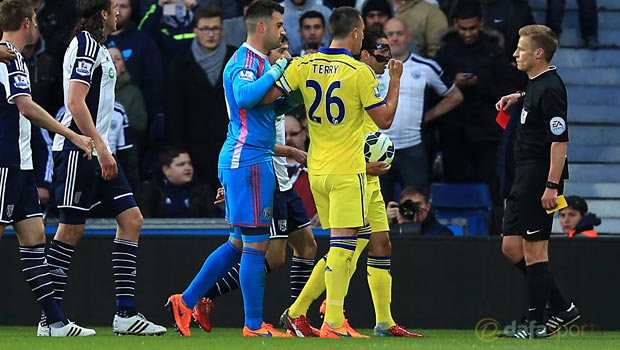 Jose Mourinho has blasted the red card that was dished out to Cesc Fabregas as Chelsea slipped to a 3-0 defeat at West Brom on Monday night.
Chelsea were already losing 1-0 after Saido Berahino had grabbed his first goal of the night on nine minutes when Fabregas was sent off for kicking the ball at Baggies midfielder Darren Fletcher.
The referee Mike Jones was dealing with a confrontation between Diego Costa and Gareth McAuley when Fabregas kicked the ball back towards the group and immediately received his marching orders.
The Spanish midfielder is now facing a three-game ban, ruling him out of the final game of the season while he will also miss the opening two games of the next campaign.
Mourinho was left feeling angry at the dismissal and questioned the thought process of the match official.
"Where is the danger of the situation, where is the aggression in the situation to get the red card in a friendly game?" he said.
"I really don't understand. I think (Darren) Fletcher was aggressive, he pushed him (Fabregas) in the chest because he is experienced and knows where he can push for a yellow card. He is much more aggressive than what Fabregas did.
"For me a top referee, a stable, big personality and in control of the game, goes there, two or three words and it's done. It's a bizarre red card.
"A three-game ban for this? Harsh? Of course it's harsh. Why does he have to explain? He doesn't need to explain."
Chelsea are 1.44 favourites to beat Sunderland at home in their final game of the season, with the Black Cats at 6.61 and the draw 4.46.
Leave a comment