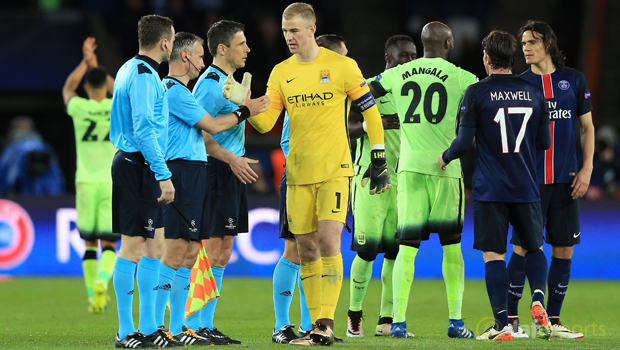 Manchester City goalkeeper insists the squad are "making history" after they picked up a positive draw with PSG in the club's first ever Champions League quarter-final outing.
Hart made his first appearance since suffering a calf injury in the defeat to Manchester United prior to the international break.
The 28-year-old's fitness was tested early on as he saved a penalty from PSG striker Zlatan Imbrahimovic at the Parc des Princes.
However, the England international, who looks set to be number one at Euro 2016, was partly at fault for allowing the Parisians back into the tie after Kevin De Bruyne's opener.
City, who are priced at 13.00 to win the Champions League, came away from the first-leg in a strong position with a 2-2 draw and are hopeful of reaching a first ever semi-final in the elite European competition.
Hart praised the performance of the back four on Wednesday night and hopes they can make the away goals count when they play the return match at the Etihad next week.
He said: "Zlatan is not bad is he? I haven't seen it again but the penalty felt very soft.
"It was a terrible first goal to concede, I gave Fernando the ball and he thought there was an option to pass it, the big man put his size 15s through it and the ball went in.
"We are making history for this club and we don't want it to end. I am proud of the back four tonight.
"It was a crazy game that we were fully involved in. It was a good game of football and we will wait and see how good a result that is.
"Two away goals is great, hopefully we make them count. Both teams will always have chances at this stage of the cup."
Leave a comment