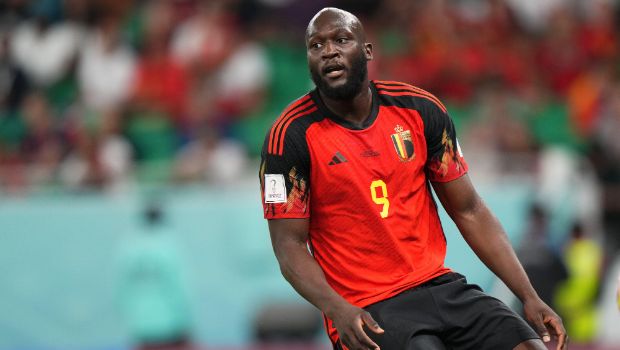 Inter Milan have begun another set of negotiations to secure the service of Romelu Lukaku for another season.
On his return to the club last season, he struggled to replicate the form that made Chelsea cough out for him.
But Inter is ready to give him another chance, having impressed the last three seasons he led them to a Scudetto success.
They have made it their next priority after completing the signing of Davide Frattesi.
They are said to be offering a loan with an obligation to buy.
Inter recently e agreed to a deal with Sassuolo on Tuesday at circa €27m plus Samuele Mulattieri, on loan with the obligation to make it permanent in 2024.
The Nerazzurri is proposing a similar process for Lukaku, who has been on loan at San Siro for the last season.
Inter director Beppe Marotta had revealed that Chelsea had already accepted an offer of €50m to sell the Belgian to a club in Saudi Arabia, but the Belgian striker rejected the transfer because he had his heart set on the Nerazzurri.
According to reports, Inter would propose only close to that figure, seemingly €5m for the loan and €30m obligation to buy, activated only if they qualify for the Champions League, which is their minimum target for the season.
Meanwhile, more details about the deal between Inter and Sassuolo for  Frattesi have emerged. This includes bonuses, the evaluation of Samuele Mulattieri, and his medical.
According to his agent, Frattesi's deal was completed, while Mulattieri's representative also met with Sassuolo to discuss personal terms.
It was reported that the deal is believed to be around €25m plus Mulattieri, while Sky Sport Italia and Sportitalia put the fee at €26-27m plus Mulattieri valued at €6-7m, which is a loan with an obligation to buy in February 2024.
Sassuolo will get more like €5m in bonuses and a 10 percent cut of any future transfer fee. This sets Fratessi's total value with add-ons at €38m.
Frattesi will sign a five-year contract and earn €2.8m per season as Inter prepares for his medical.
Written by Oladipupo Mojeed
Leave a comment