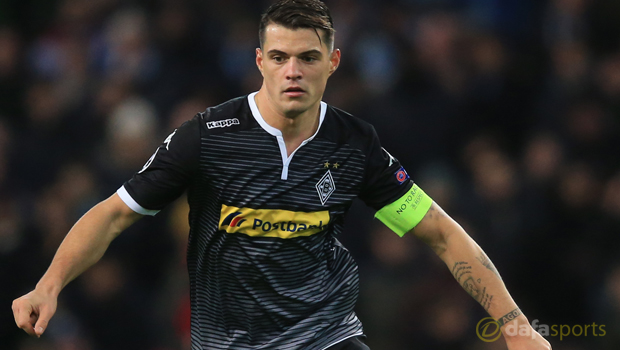 Borussia Monchengladbach midfielder Granit Xhaka has revealed that it would be his dream to play in the Premier League after recent rumours linked with him both Liverpool and Manchester City.
The 23-year-old only joined the Bundesliga club in 2012 after catching the eye while playing for FC Basel.
He has scored six goals in 95 appearances for the German giants and his contract does not expire until the end of the 2019 campaign.
Recent reports have linked Liverpool with a move, with boss Jurgen Klopp a keen admirer since his Borussia Dortmund days.
Klopp has reportedly met with his agent about a deal, while Manchester City are hoping to also his secure his services.
When speaking to Sky Sports in Germany, the Basel-born star admitted that he would love to move to England in the near future.
He said: "I think everybody has a dream. Everybody has a childhood dream and that's my childhood dream.
"If my dream comes true, it remains to be seen. At the moment I cannot say how realistic it is."
Xhaka could be in for a busy summer, with a potential transfer and Euro 2016 on the horizon. The Switzerland international, who has 39 caps to his name, will be hoping he can help his side progress out of Group A where they will take on Albania, France and Romania.
Vladimir Petkovic's side are currently available at odds of 5.00 to win the group with Dafabet.
Leave a comment