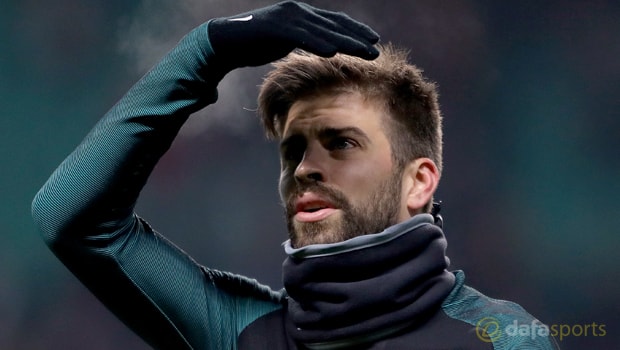 Barcelona defender Gerard Pique wants to continue playing for the Spanish national team despite being booed by some of his own supporters this week.
Pique was jeered by parts of a crowd that watched the national team train this week, days after a vote in his native Catalonia produced a 90 per-cent majority in favour of independence from the rest of Spain.
Pique has made no secret of his pride at being Catalan in the past but he insists he counts the Spanish national team as 'a family' and that it is unfair for anyone to question his commitment given the long years of dedication he has given.
The former Manchester United central defender helped Spain to World Cup glory in 2010 and European Championship success two years later.
Speaking at a press conference ahead of Spain's next World Cup Qualifier against Albania Pique admitted it is hard to be on the end of jeering from his own team's supporters but vowed that it won't dispel him from representing Spain to the best of his ability.
"Since the beginning of the situation, to have fans that usually cheer you whistle and insult you, has been very difficult," he said.
"But it is impossible to question my commitment since the age of 15. I consider this a family and it is one of the reasons why I continue here.
"I have said it many times, I am very proud to be part of the Spanish selection and a group capable of winning all the titles here.
I'm here to make myself clear and because the coach asked me to. "I'll try to help the team in any way I can.
We have to focus on trying to win three points against Albania. We would be almost qualified." Spain are 5.25 to beat Albania 3-0 on Friday.
Leave a comment