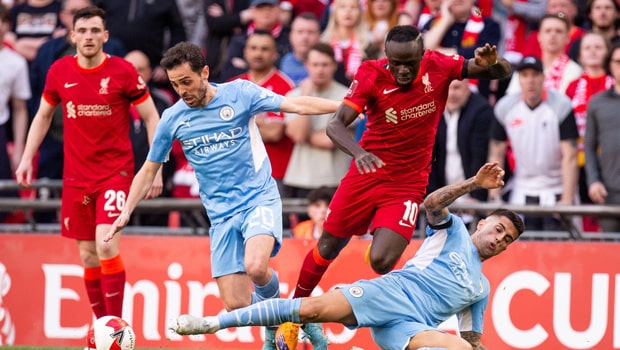 Liverpool defeated Manchester City three – two in a thrilling contest at the Wembley Stadium to reach the FA Cup final.
The Reds took a three-goal lead in the first half but survived a late fightback from Pep Guardiola's men in the semifinal encounter.
Liverpool took the lead from a header off Ibrahim Konate gave early in the game, while Senegalese forward Sadio Mane got a brace.
Manchester City rallied after the break, reducing the deficit almost immediately with Jack Grealish firing home from a Gabriel Jesus pass before Bernardo Silva's last-minute strike to ensure a tense finale.
Liverpool will make their first FA Cup final appearance since 2012 on May fourteen when they face Chelsea, who beat Crystal Palace 2-0 on Sunday.
Liverpool manager Jurgen Klopp stated that the victory was one of the best displays by his team.
"Absolutely proud, incredible, The first half was one of the best we ever played. We did all the right stuff. We scored in the right moments. We were outstanding. I loved each second of it." Klopp said.
Meanwhile, Cristiano Ronaldo scored a hat-trick as Manchester United claimed a three-two win over Norwich on Saturday to take advantage of defeats for Arsenal and Tottenham in the race for a place in next season's Champions League.
Spurs' winning run was brought to an abrupt end by a one-nil home defeat to Brighton, while the Arsenal were beaten by the same scoreline at Southampton to slump to a third consecutive loss.
Ronaldo's fiftieth club hat-trick tempered a revolt among the fanbase at Old Trafford as United moved above Arsenal into fifth on goal difference, three points behind Tottenham.
There was unrest among the United fans before the game even began, as many did not come into the stadium until the seventeenth minute to protest against the seventeen years of the Glazer family's ownership of the club.
Leave a comment