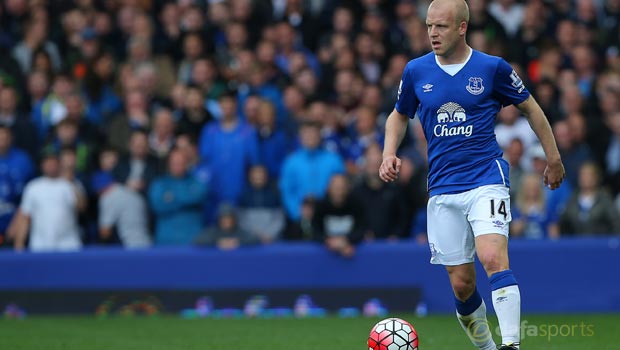 Everton forward Steven Naismith has set his sights on a top-four finish and a place in next season's Champions League following an encouraging start to the season.
The Toffees currently sit in seventh place, just two points behind Crystal Palace in fourth, following a run of five games that has seen them go undefeated.
With Chelsea, Liverpool and Tottenham all below them in the Premier League, Naismith believes there is a real chance to grab fourth spot and secure a place in Europe's elite club competition.
Naismith believes Everton are churning out results on a consistent basis and, if they can continue to do that, they will have a good chance.
"The top four has now probably turned into a big six or seven," he said. "Spurs are consistently fighting for it, we did it a couple of years ago. We feel we're good enough to be up at that mark.
"We're confident against anyone. If we play as we know we can, then we are a match for anyone in the league. We have shown that over the last two or three years. Anyone would have looked at our start and thought we were going to be in for a difficult time. But we believe we can beat anyone on our day.
"We had a draw on the opening day against Watford and then another at Swansea, but we have always followed it up with a good result. We are consistently doing it.
"That turns your season into a good start and we are looking forward to what is to come."
Everton are 301.00 to win the Premier League title, but are in with a good chance of making the top four if they continue to shine.
Leave a comment