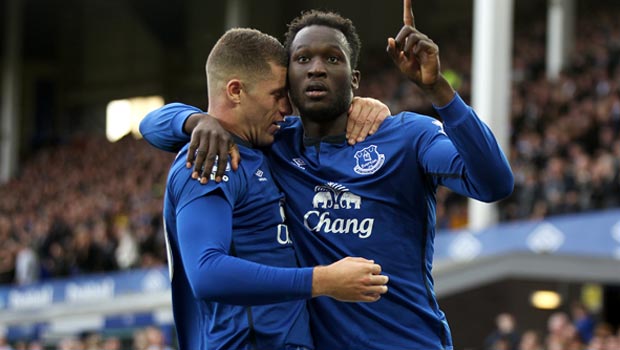 Romelu Lukaku has praised the effect of having young midfielder Ross Barkley back in the Everton team.
The 20-year-old England midfielder Barkley returned to action on Saturday after suffering knee ligament damage just before Everton's opening game at Leicester City, and inspired the home side to their most impressive Premier League win of the season.
Barkley created Everton's second goal in a 3-0 triumph, as he showed his creativity with a neat pass into Belgian striker Lukaku, who shot powerfully towards goal, and his attempt squirmed under Villa keeper Brad Guzan.
"He is like a friend and brother to me off the pitch," explained Lukaku. "I am very happy that he is back on it because he brings something that the whole team needs.
"He has that rawness, that skill, that power. He is a perfect partner for me to play up front with and I am very happy that he is back.
"There are loads of players who can help me, but he has something that none of us have. I can't explain it. He is the best player in our team."
After the victory over Villa, manager Roberto Martinez praised Barkley, saying: "You watch and just wonder if he was born to play football.
"As humans you are not born to kick a ball but he looks more natural with a ball at his feet than without it. When you looked at some of his movement on the ball, especially early in the game, it just looks like he was born to play football.
"Everybody knows about his outstanding technical ability but then you look at his exceptional physical ability and he has got both."
The Toffees are 1.78 to get three points as they travel to winless Burnley next weekend.
Leave a comment