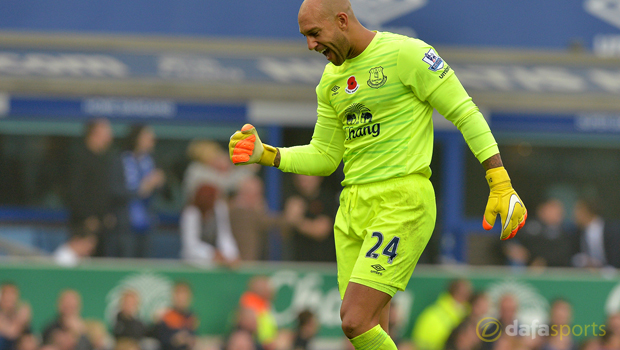 Everton goalkeeper Tim Howard insists his confidence has not been dented by recent criticism from some sections of the media.
The 36-year-old has let in eight goals in his last four appearances for the club against West Brom, Liverpool, Manchester United and Arsenal.
Some of the results have been pinned on Howard by some sections of the media, but his manager Roberto Martinez was quick to defend him in midweek.
Back-up goalkeeper Joel Robles played well in the Capital One Cup win over Norwich last week but Howard is still confident he is the main man at Goodison Park.
Although he admits he's made mistakes in the last few weeks, the USA international insists his confidence has not been affected.
Howard told Sky Sports' Super Sunday: "I think if you look back at how many games? 400 games? I'd like to know how many goals because in all of those games I probably could do better on every goal.
"In hindsight you know where it's going and the result. I don't have that luxury in a game.
"If you don't have experience you have nothing to draw from. When you have experience you use that to stay positive and to move forward.
"As I've said all along, I don't mind the criticism because I think my body of work speaks for itself. I don't have to say a word.
"Thirteen years in the Premier League, probably over 700 games in my career, over 100 games for my country and two of the best clubs in the land… the next person who does that, I'll be impressed."
Leave a comment