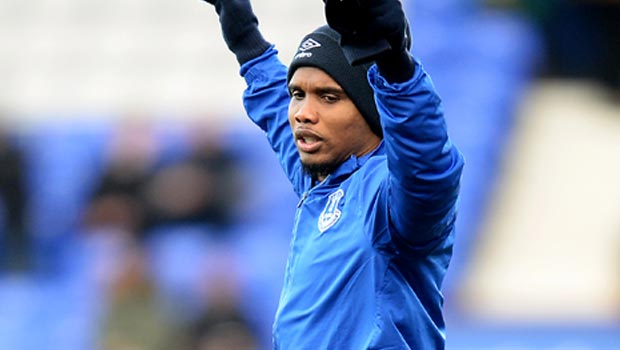 Everton striker Samuel Eto'o will complete a move to Serie A side Sampdoria before the transfer window closes, according to sporting director Carlo Osti.
Eto'o linked up with the Toffees, who are priced at 15.00 to win the Europa League, just five months ago after being released by Chelsea but it appears he is ready to accept a new challenge.
Reports coming out of Italy have suggested for the last couple of weeks that negotiations were underway and the two clubs are now understood to be close to finalising a deal.
The former Barcelona and Inter Milan man is reportedly willing to accept a 40 per cent wage cut to head back to Italy as Sampdoria look secure Champions League football this season.
The 33-year-old is currently contracted to the Merseyside outfit until June 2016, but boss Roberto Martinez is happy to allow the Cameroon international leave once a replacement has been found.
Osti insists that he is confident of completing the deal and believes that the experienced frontman will add some much needed experience to their attack.
Osti said: "Our agreement with Eto'o has almost been finalised. He wants to join Sampdoria, those are his intentions.
"He is currently negotiating with Everton to resolve his contract with them.
"Everton are looking for a replacement. It might take a day more than expected, but we are moderately optimistic on Eto'o and hope he can arrive as soon as possible.
"I think Eto'o is a player of great character who can only help this group of mature players grow even more."
Leave a comment