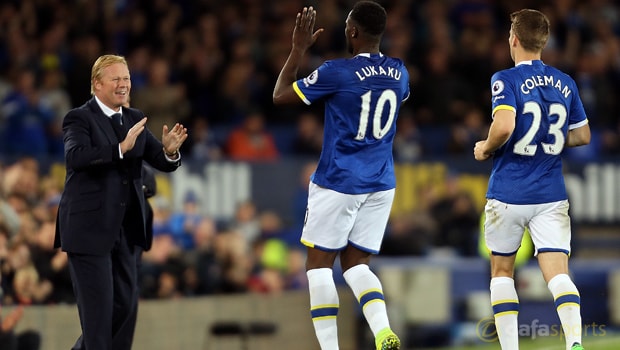 Everton coach Ronald Koeman admits he will continue to work hard and try to persuade striker Romelu Lukaku to stay at Goodison Park.
The Belgium international has been linked with a move away from the club for several months and turned down a new contract in midweek.
Lukaku claimed the club's ambitions did not match his own, despite Everton offering him the most lucrative contract in the club's history.
The former Chelsea forward was offered a five-year deal on £140,000 a week but he appears ready to move on this summer, perhaps with Champions League football in mind.
Koeman still started him ahead of Saturday's 4-0 win over Hull and the powerful striker repaid him with an assist and two goals.
He took his tally to 21 for the season and Koeman was full of praise for his star forward as he tries to tempt him to stay.
Koeman told reporters after the win: "You need to have hope in life. The fans love Romelu Lukaku and everyone loves Rom.
"He is a professional and every professional gives the best for the club, the players, for everybody.
Of course we like to keep best players and we will do the maximum to keep these players.
"But the final decision will be with the player himself." Saturday's win was Everton's third in five matches and the three points lifted them up to sixth in the Premier League table, one point behind Arsenal in fifth as they continue to fight for Champions League football.
Leave a comment