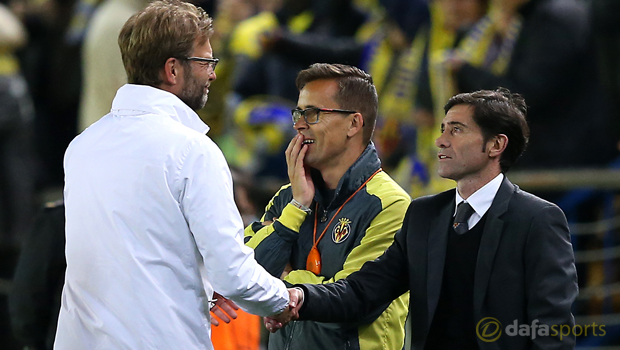 Jurgen Klopp refused to be downbeat after his Liverpool side lost their Europa League semi-final first leg against Villarreal in Spain.
The Reds had delivered a cautious and controlled performance at El Madrigal and seemed set to return home with a stalemate until substitute Adrian Lopez tapped home from close range in the 92nd minute.
Klopp admitted it was a lack of concentration at the end of the game that ultimately cost Liverpool defeat but he says they will get over it quickly.
The German remains confident that his team can get the job done in the second leg at home and he warned the La Liga outfit they must cope with what is sure to be an intense atmosphere on Merseyside.
"It is not a moment for disappointment. If the players want to be angry for 10 minutes then do it and move on," Klopp said. "To be honest it is the first leg.
My first thought was 'Sorry, but it is not over, you have to come to Anfield too and we will be ready'.
"With the help of Anfield we can do it." In a game of few decent scoring chances, Liverpool allowed Denis Suarez to burst into their penalty box late on and he unselfishly released the ball for Lopez to tap into any empty net.
For Klopp, it was a disappointing end to what been a measured performance from Liverpool on the night.
"After controlling a game like this in most parts of the game a 92nd-minute counter-attack it sounds like it is – not too good and everyone knows it and it should not happen," he added.
"I've seen some unbelievable mistakes but I don't think about things like this. It happens.
It was not too smart. There are lot of things we could ask but it makes no sense." Liverpool are 3.50 to win the Europa League while Villarreal are now 3.25 in the wake of their triumph.
Leave a comment