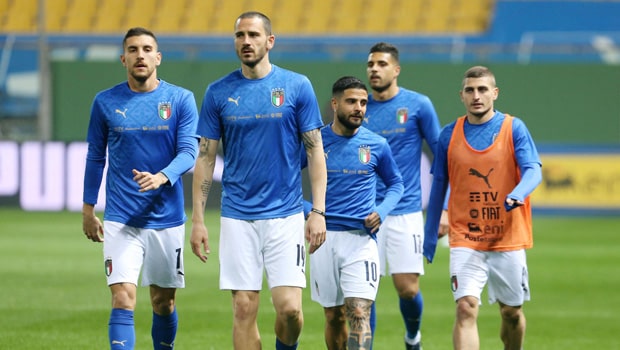 The word "dark horse" is usually used for someone who is unassuming, not expected to step up, but turns out to have surprisingly good abilities. Given the rich history of the Italian national football team, it would seem stupid to undermine them but their recent showings at major tournaments have tarnished their reputation.
Currently, Italy is on a massive 25 match unbeaten streak in all competitions stretching back to 2018. Their last five results have all been 2-0 victories, which proves the fact that they are not only solid at the back, but also quite clinical in front of goal.
Among all the teams that took part in the qualification round for the upcoming Euros, Italy were one of only two teams to win all their games, the other being Belgium. In those 10 games, Italy scored 37 goals and conceded just four times.
Their defence is clearly their strength. Chiellini, Bonucci and Acerbi aren't the quickest anymore, but they have impeccable positioning and read the game very well. Italy's most exciting facet is their midfield. While Marco Verratti is set in stone in the midfield three, Roberto Mancini will be spoilt for choice when he picks two players out of the young quartet of Barela, Cristante, Locatelli and Pellegrini.
Ciro Immobile, Lorenzo Insigne and Federico Chiesa have all enjoyed fruitful campaigns in the recently concluded Serie A season, which should give them enough confidence to showcase their A game next month.
They are placed in Group A, which includes Turkey, Switzerland and Wales. While this is not the group of death, it could prove to be quite tricky but Italy will be favourites to go to the next round. All their group matches will be played at Rome, which is a big advantage.
If they manage to top their group, they should have a favourable ride till the quarter finals wherein they are expected to face Belgium which will prove to be a big test for them.
Neither do Italy have the squad depth of France, nor do they boast superstar such as Cristiano Ronaldo or Robert Lewandowski. But what Italy do possess is a team with a mix of youth and experience. Roberto Mancini has had an accomplished managerial career at club level, but if he can achieve success this summer it could well be his greatest achievement with this underdog side.
Leave a comment