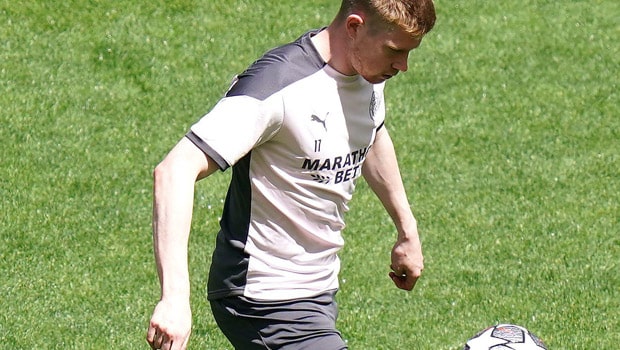 Belgium star Kevin de Bruyne is not expected to feature in the first match of the upcoming Euro campaign against Russia. Kevin de Bruyne had his fair share of injury issues earlier this season, but was fit and running until he got a very unusual injury during the Champions League final. De Bruyne experienced a facial injury against Chelsea during the Champions League final, which will keep him out of Belgium's plans on this Saturday.
Roberto Matinez's side will begin their campaign this weekend against Russia before taking on Denmark and Finland. Belgium are one of the stronger sides in the tournament and are expected to do well. While they have an envious attack, their slow backline can be left exposed by the likes of France and Portugal.
One of their star players is Manchester City's Kevin de Bruyne but he won't be featuring in the first match after damaging his left eye socket a week ago. His place could be taken by Dries Mertens, who is more than capable of making a difference on his day.
The Manchester City midfielder has undergone surgery and the good news for the Red Devils is that he will be able to take part in the remainder of the tournament.
Asked how well De Bruyne has recovered, Martinez replied: "Very well. I think the medical intervention went extremely well.
"It's still a very fresh one so it'll take a few days, but the initial reaction has been really positive and he seems ready. It's looking more forwards than backwards at this point.
"He's joined the medical department for the next few days and then, whenever we get the green light, he's going to be integrated into the sporting side.
"I would say at the moment I'm not counting on Kevin to be in the first game but if that changes it will be because he adapts well to his own programme. But we're not going to push any sort of timeline into Kevin's recovery.
"He is here, is mentally really enthusiastic and excited, and we need to take every 24 hours in real focus."
Leave a comment