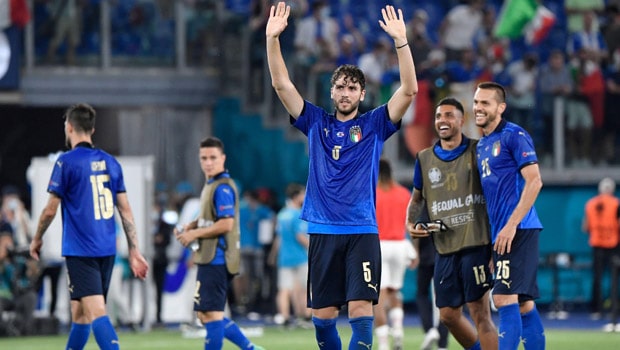 It is no longer news that Italy is the first team to qualify for the last 16 of the European Championship courtesy of another 3-0 win over Switzerland at the Stadio Olimpico.
The Azzurri made am light of their Swiss opponent with a brace from Manuel Locatelli and a late individual volley from striker Ciro Immobile.
The win also extended their unbeaten record to 29, and they have won their last ten games in the process.
Locatelli replaced Marco Verratti in the first two games of Euro 2020 and didn't struggle to live up to expectations.
But the question that is being asked now is if Locatelli, who got the man-of-the-match award, will play subsequent games for Italy. His inclusion in the starting lineup has been due to the absence of Marco Veratti, who recently returned to fitness.
Italian newspaper La Gazzetta dello Sport pointed that Italy has four midfielders goals, and the talent of Veratti can't be argued. The paper further noted that his personality profile is increasing, but he could find himself on the bench.
Although it won't be surprising if he didn't play the next game as Roberto Mancini is expected to field some players that have not featured in the first two games since they have secured the knockout stage ticket courtesy of their  3-0 wins over Turkey and Switzerland.
Now that the Azzurri sit first in Group A and could secure the top spot if they avoid defeat against Wales in the third and final round of the group stage, the final position in the group will determine their opponent in the last 16.
If Italy finishes first in Group A,  they will travel to London to face any team that finishes second in Group C on Saturday, June 26. It means they could play either the Netherlands, Ukraine, and Austria.
If they finished second (if they lose to Wales), Mancini's men would face runners up in group B, who are likely Belgium, Russia, Finland, or Denmark in Amsterdam.
Leave a comment