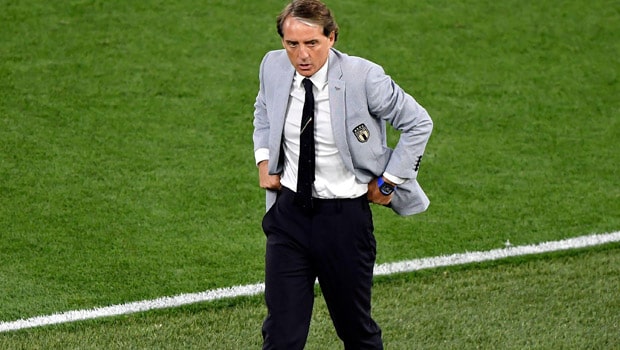 Italy are in blistering form under head coach Roberto Mancini. Following their 1-0 win against Wales in their second Euro 2020 fixture, they extended their unbeaten streak to 30 consecutive matches, matching the record of the legendary Italian side under Vittorio Pozzo between 1935 and 1939.
They haven't lost a match since September 2018 and having played 30 matches since then, Mancini's side have 25 wins and five draws. However, the head coach doesn't want the record to get to his players' heads. Winning trophies is what's most important, according to Mancini.
"It's nice to have equalled a legend like Pozzo. But he has more important trophies than the 30 games," said Mancini following the 1-0 win over Wales.
"We are happy because all the players had a great game and changing eight players at kick-off, it was not necessarily an obvious thing to do. I would have changed even if the game had been decisive, I needed fresh strength in the game. We had to gain some minutes."
The Italian manager further elucidated that every member of the squad could use game-time at a stage as big as the European Championship.
"We are 26 (players), we need them to play and have time to play. It will be a little more difficult to make the choices, yes," he added.
"A lot of the players are used to playing big matches, it will be a shame to leave some aside. But we can count on a lot of players, that's the most important thing," Mancini affirmed.
Roberto Mancini even made a change in between the sticks when veteran keeper Salvatore Sirigu came on for first-choice Gianluigi Donnarumma with two minutes left on the clock. Mancini's gesture received a lot of adulation from football fans all over the world.
It is believed that the head coach made the decision following his own personal experience and regret of not getting minutes at a World Cup. The Sampdoria legend was included in Italy's squad for the 1990 World Cup. However, he didn't see a single minute of action at the big stage and has called it the biggest regret of his playing career.
25 of the 26 Italian players in the contingent have seen minutes in the European Championships. The only exception has been third-choice keeper Alex Meret.
Mateo Pessina scored in Rome to hand the Azzurri a 1-0 win and they will now take on the runners-up from Group C in the next round of Euro 2020.
Leave a comment