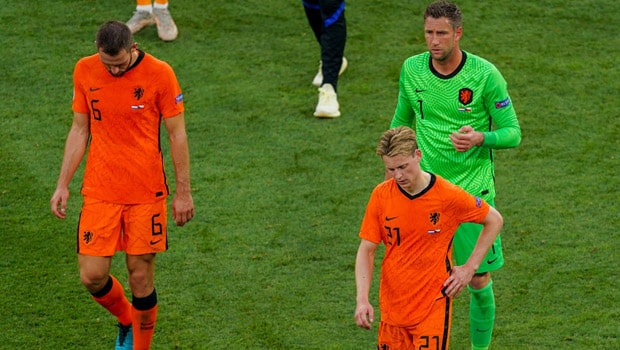 It is no longer news that the Netherlands suffered a shocking exit from the Euro 2020 tournament after a 2-0 loss against the unfancied Czech Republic on Sunday.
The Oranges, rated as one of the favourites, had gone into the last 16 on the back of three straight wins in their group games where they scored nine goals. But they struggled to create chances against impressive Czechs who were compact. Dyen Malen will be blaming himself for missing a one-on-one chance against Thomas Vaclick, few seconds before they conceded the first goal.
Holland was already under huge pressure as the Czech's started growing in confidence after the dismissal of Matthijs de Ligt for handling the ball close to goal in a duel with Patrick Schick. They later got the two goals that secure a quarter-final ticket for them through Tomas Holes and Schick. The win means the Czech will be playing Denmark, who routed Wales 4-0 in their last 16 encounter.
The shocking loss has led to many reactions as expected. One of such reactions is from Barcelona midfielder Frenkie de Jong who shared his thoughts on the latest development.
de Jong, in his post-match interview, said it seemed they were tired as they didn't play well in the first half. Not really pinpointing the reason for their exit, the Barcelona midfielder said it was a tough game that might have been the biggest game for some players. Acknowledging that their game never got off the ground, de Jong said things became even more difficult after going one man down.
He further said that they were prepared tactically and focused as they didn't underestimate their opponent; de Jong said they just couldn't get their game going, noting that it is like that sometimes.
He added that the game was slipping away from their grip after the red card, and it dawned on the team when they got behind. He also said the second goal made it really difficult as they couldn't break free, and he couldn't get much free time.
Leave a comment