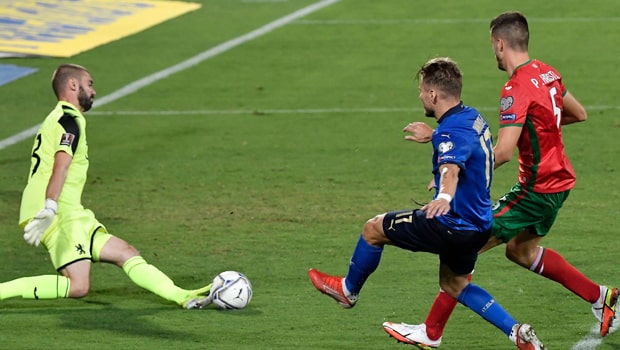 Bulgaria has secured a vital point against European champions Italy on Thursday night on the FIFA World Cup 2022 qualifiers in Florence.
The Azurri were outright favorite expected to steamroll their visitors, only to be held by a fine Bulgarian defensive effort in the World Cup qualifier.
Italy had continued from where they stopped by dictating the game and got rewarded in the 16th minute through Federico Chiesa's superb goal. The Juve starlet dribbled inside from the right flank before exchanging passes with Ciro Immobile and later drove low into the corner with his left foot.
They continued their dominance throughout the game that sees them recording 79 percent of the possession. Still, one lapse in defence six minutes before the break saw Atanas Iliev restore parity for Bulgaria. The Ludogorets winger, Kiril Despodov, got down the left flank and put in a perfect outside of the right foot center for Iliev to hit home the first time.
Despite some errant finishing from Lorenzo Insigne, Bulgaria ensured Bulgaria held on for their second point in Group C with its desperate defending and excellent goalkeeping from Georgi Georgiev. They now have a very winnable game at home against Lithuania on Sunday.
The result has extended Italy's unbeaten record to 35 games, meeting the records of Spain and Brazil. The Azzurri's currently top the log with 10 points from their four games. They will have to prove a point against Switzerland on Sunday – a repeat of the Euro 2020 meeting, before hosting Lithuania on Wednesday.
Despite controlling the game that sees the Azurri have ten shorts, Bulgaria restricted that to only two on target, with one only beating the goalie. Their good interplay with the forward line and midfield couldn't break a Bulgarian side that threatened to break while keeping the ball in the opposition half for nearly the whole game.
Leave a comment