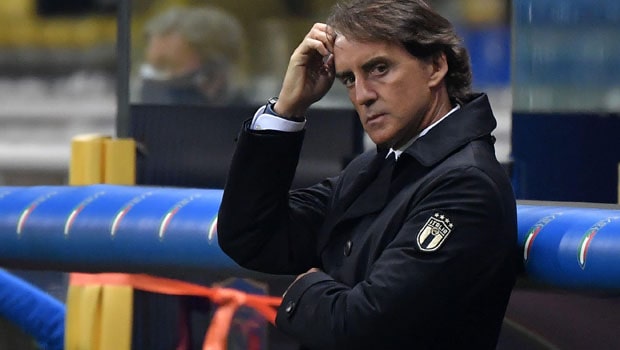 After missing the last two World Cups, European champion Italy will square up against England for Thursday's Euro 2024 qualifying Group C opener.
This is the first step towards defending their continental crown. The Azurri will welcome England to the Stadio Diego Armando Maradona.
Since ensuring that football would not come home when they defeated the Three Lions on penalties in the Euro 2020 final, The Azzurri have lost their sparkle since then.
This will now be a litmus test for Roberto Mancini's champions, who are still reliving their North Macedonian nightmares.
This is now an opportunity for Italy fans as they look forward to a reunion with their World Cup playoff conquerors in their Euros qualifying section.
The Azzurri were the dominant force before and during the delayed Euro 2020 campaign but came up short again in their bid to appear at the World Cup Finals, as they lost to North Macedonia in the playoff semifinal.
They will not want to watch a major from home after failing to qualify for the last two world cups.
The positive thing for Italy is that a Nations League crown is firmly within their sights after beating England, Hungary, and Germany to the top spot in League A Group 3. Added to this is the semifinals with Spain in June.
They are going into the clash on the back of a 3-1 over Albania and a 2-0 loss to Austria in their most recent bout of friendlies in November.
Italy Haven good records in qualifying games barring the ones that made them miss the world cups. The Azzurri have won each of their last 14 qualification games and are unbeaten in 40 since going down 3-1 to France in 2006.
The last time Italy lost in a European qualifier was 24 years ago – a 3-2 defeat to Denmark in 1999.
Having been ousted by France in the World Cup quarterfinals, England cannot take inspiration from watching the women's team soar to continental stardom in their Euro 2022 campaign.
Another quarterfinal exit in Qatar showed that Gareth Southgate missed another opportunity of lifting a trophy.
Meanwhile, the Three Lions have won 17 out of their last 18 Euros qualifying matches – the outlier being a 2-1 loss to the Czech Republic in October 2019.
A win in Naples would be a landmark for him as he is looking for his 50th win as the manager of Three Lions.
Leave a comment