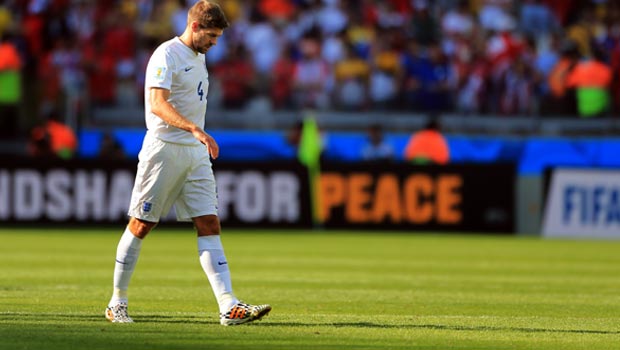 Former England skipper David Beckham believes that the man currently wearing the armband, Steven Gerrard, should continue in his role as leader for the Euro 2016 qualifiers.
The Three Lions returned from the World Cup in Brazil with their tails between their legs last month after dropping out rock bottom of Group D after claiming just one point.
Consecutive 2-1 losses to Italy and Uruguay meant that Roy Hodgson's squad had their fate sealed before the final game against Costa Rica, which ended in a goalless draw.
Despite the overall outcome, England did at times play a decent brand of football and attempted to revitalise the starting line-up with a blend of old and new.
Youngsters like Raheem Sterling and Ross Barkley displayed glimpses of what might be to come in the future and Beckham believes that not all is doom and gloom.
The former Manchester United and Real Madrid man insists that Gerrard is essential to the to the national side if they are to continue taking steps in the right direction.
Beckham said: "I would love to see Stevie continue because I think these young players need someone to look up to and a mentor – someone that has been there and done it – and I think that Steve is a great captain. He has been for Liverpool and England.
"He doesn't need my advice but one thing that I would say; that if you can play for England as long as you can, then do it."
Leave a comment