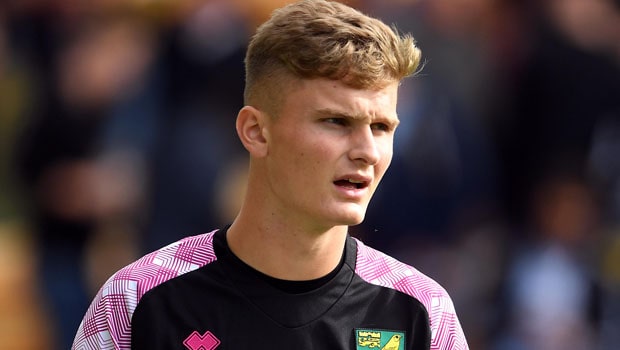 Archie Mair, goalkeeper for Norwich City, has come to an agreement on a long-term contract with the club.  The Scotland international is one of the best thought-of U21 prospects at his position.
"It's something I've aimed for since I came down," Nair said. "I've only been here for about a year and a half now, but I knew it was something that I wanted to do. I've loved every minute of my time here since I came down. I think the club are really good with rewarding players with new contracts when it's needed, if they're performing well or working hard."
The 20-year-old's contract at Carrow Road was set to expire at the end of next season. He has been on a season-long loan at King's Lynn Town FC of the National League.
"I've really enjoyed it and all the people at King's Lynn are really great, so I've enjoyed working for them." Nair said. "It's been a really good challenge for me, the season has been a bit up and down a lot of times, but I've really enjoyed every minute."
He has 23 appearances and four clean sheets in the fifth-tier league of England.
The new three-year extension keeps him tied to the club until 2024, with Norwich City having a team-option on the contract to extend. Nair joined teammate Daniel Barden as the season goalkeeper to set up a longer-term deal with the Canaries.
He originally joined the club in 2019.
"It is a great place for a 19-year-old goalkeeper to go and play," Norwich City Sporting Director Stuart Webber added.
"He has so many crosses he has to deal with and shots on goal. He is almost getting a crash course in being a goalkeeper in getting hit, and all those sorts of things, on crosses and things like that, so it is brilliant for him."
Leave a comment