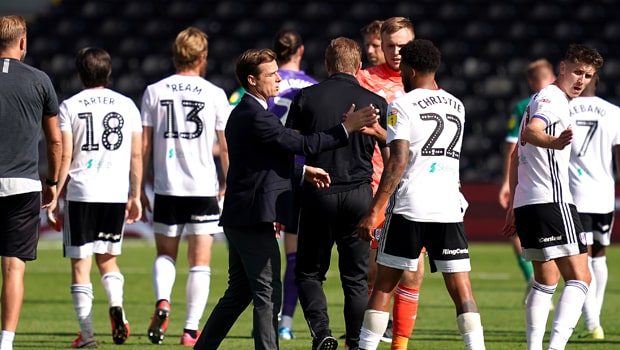 Perhaps it was not the clinical result Fulham manager Scott Parker would have hoped for, but a crucial and well-deserved win nevertheless. Fulham took the lead early on at home and never let go, despite the visitors tagging along for three goals. Five goals scored was enough to secure the win and help Fulham come within two points of automatic promotion to the Premier League, with one more game to play for each candidate.
Leeds United secured their Premier League berth, but the 2nd place is up for grabs as WBA took another hit in the teeth from Huddersfield, who stood strong at home on Friday taking a narrow 2-1 win. Third placed Brentford succumbed to their first loss in their eight game since the return, suffering a 1-0 defeat in the hands of Stoke up north.
Fulham took the game against Sheffield Wednesday by a storm early on. Neeskens Kebano opened the scoring already on the 11th minute and Aleksandar Mitrovic added two before the half, on 26th and from a penalty on 41st minute. The game seemed done and dusted already then, Wednesday only managing one shot on goal in the first half and looking completely out of it.
The second half saw a somewhat lackluster defensive display from the hosts and the visitors took advantage. Athde Nuhio gave a glimmer of hope from a penalty on the 49th minute, before Kebano bagged his second of the night on 73rd minute to take the hosts three goals ahead once again. Wednesday's Jacob Murphy answered five minutes later and Nuhiu hit another just before full time to make it a one-goal-game once more. It was Bobby Reid on the 90+1 minute who finally secured the victory for the home side, finalizing the score to 5-3.
The final round of the Championship will decide the second team going straight up and joining Leeds. The Welsh couple Swansea and Cardiff will decide the final promotion-playoff spot with Cardiff currently having a three point lead, but a one-goal deficit in the goal difference. At the top, WBA stands at 82 points, Brentford at 81 and Fulham at 80. Fulham's hopes are not in their own hands, but they are in a must-win-situation in order to stand a chance.
Fulham is traveling to Wigan on 22nd of July, while WBA takes on QPR at home and Brentford hosts Barnsley. If the probabilities play out as expected, WBA is to secure their promotion against mid-table QPR with nothing to play for and Brentford is likely to take an easy win on already relegated Barnsley.
Leave a comment