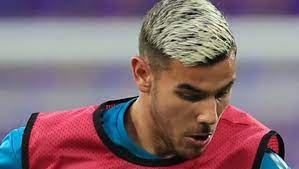 French left-back Theo Hernandez has not been training with the rest of the squad due to discomfort in his calf.
L'Equipe reported that Theo missed two training sessions with the rest of the squad due to the same issue.
Although his condition does not arouse much concern, they still want to be careful with him. They are therefore hoping he can return to the pitch on Wednesday afternoon. This will boost France, given the lack of options in the left-back role.
Real Madrid's Ferland Mendy withdrew before the camp started and was replaced by midfielder Jordan Veretout. At the same time, his teammate, Eduardo Camavinga, was called up, having been impressive in the midfield this season for Los Blancos.
As it stands, France will have to play on Friday against Gibraltar away without their natural left back. They will then play against Greece at home on Monday, both of which are qualifiers for Euro 2024.
Meanwhile, France coach Didier Deschamps has said the issue concerning the future of Kylian Mbappé has no impact on him and the team's life.
Mbappe, who won the golden boot for the 5th straight season in the recently concluded Logue 1 campaign, has been in the news over the extra one-year clause in his PSG deal, 2hoch he said he wouldn't activate.
This has made the club put him up for sale, and Real Madrid are believed to be monitoring the situation.
Speaking at a press conference, Deschamps admitted that the captain is no more tense than usual because he is used to being in the center of the news.
"It has no impact on him and the life of the group. The most important is the game against Gibraltar. But Kylian is Kylian. Even when there is no news, we will always talk a little more about him", he added.
Leave a comment