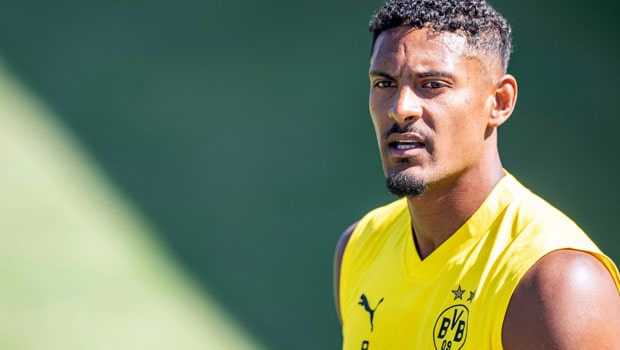 Borussia Dortmund forward Sebastien Haller has revealed he will make a return to the team better and in good shape. This has come following the news on Monday that the new Dortmund signing was initially diagnosed with a testicular tumor.
Haller left the team's training base in Switzerland immediately after the doctors revealed the diagnosis.
However, the 28-year-old has now taken to his social media Twitter account appreciating everyone for their heartfelt messages full of care and love.
"I would like to appreciate you all for your messages. This shows the love you have for me; my family and I are grateful. "The goal is to come back stronger and better," he said.
There have been further reports by the club sources saying there will be an additional test to be administered to Haller with an appointment scheduled at a special medical facility this week.
Dortmund Sporting Director Sebastian Kehl also expressed his unhappiness towards the situation as he said the news shocked the player and the entire Dortmund team.
"When the news broke at first, I was shocked and sad simultaneously because Sebastien is a fantastic guy with a brilliant attitude.
"We at Dortmund will make sure he gets the very best of treatment and monitor his progress to ensure he returns as soon as possible positively and more strongly," he added.
The former Ajax man joined the Black and Yellow side for €31m this summer as a replacement for the departed Erling Haaland on a four-year deal.
He is a proven goalscorer as he bagged 21 goals in 31 outings for the Dutch-based club [Ajax] last season in the Eredivisie, coupled with 10 goals in the group stages of the UEFA Champions League.
Hopefully, Haller returns fit and ready to push his side to win the Bundesliga in the coming 2022/2023 season.
Leave a comment