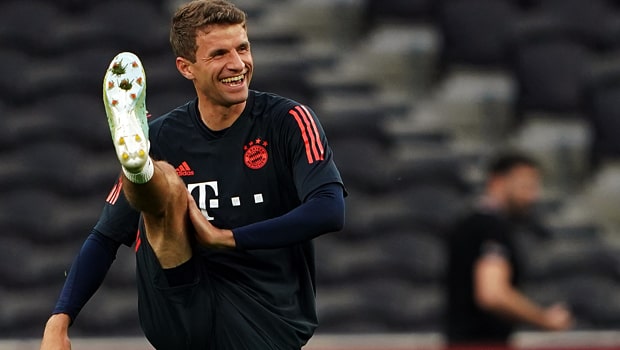 Bayern continued their impressive form with a routine win over Augsburg as they secured a 2-0 win on Sunday courtesy of goals from Thomas Muller  and Leon Groetzka as they go four points clear on the Bundesliga table.
Augsburg tried to make things difficult for the Bavarians as they limited them to just a few clear cut chances. Bayern, however, had to try to something different as they abandoned their swift passing and went back to the archaic direct football as it paid off in the 53rd minute when Jerome Boateng lofted ball was brought down by Thomas Muller as the forward converted to our his side ahead.
Augsburg also had their chance in the 89th minute as the Germany number one – Manuel Neuer brilliantly saved Florian Neiderlechner's low effort which the forward scored the rebounds but was later ruled out for offside
As the game reached its closing stages, Serge Gnabry and Joshua Zirkzee wasted their chances respectively as Augsburg kept on searching for an equaliser.
Bayern finally had a chance to double their tally as Leon Groetzka scored in the stoppage time to seal a comfortable 2-0 win.
Muller said after the game that the way and manner at which they played was a little different from the ones in the recent weeks.
" It is essential we take a deep breath before we head into the busy fixtures ahead of us (March 14-22) which also includes the second leg last of 16 Champions League match against Chelsea which the Bayern win 3-0 in the first leg.
Bayern lead the proceedings at the top of the Bundesliga table with four points after Leipzig dropped points after a stalemate with Wolfsburg with Dortmund second on  the  table.
Leave a comment