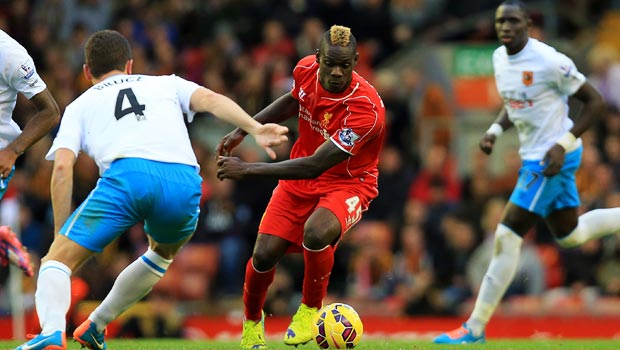 It has been another tough week for both Brendan Rodgers and Mario Balotelli at Liverpool but the Anfield boss was upbeat about his misfit Italian striker in the wake of a scoreless draw against Hull.
Balotelli came perilously close to winning the game for Liverpool in stoppage time but was unable to connect with a cross in the Hull penalty area.
Hot on the heels of his controversial jersey swap with Real Madrid's Pepe and subsequent substitution on Wednesday night, it was another day to forget for Balotelli.
Many observers expected Rodgers to drop the striker on Saturday after the Reds boss was critical of the Italian in the wake of the Madrid defeat.
Rodgers though has not lost hope of a turnaround just yet.
"I thought he worked very well, very hard. He maybe thought he wasn't going to play today but you have got to stay with it. He is working hard and he is doing his best," he said after the game.
Balotelli has scored only once since arriving on Merseyside back in August.
That goal came against Ludogorets in his third outing and the 24-year-old has been unable to add to it in eight appearances.
His manager gave the impression he would buy the striker a goal if he could in an attempt to lift confidence.
"Goalscorers will tell you they get their energy from the ball hitting the back of the net and it is just not happening for him in terms of that, but all I will ask is they do their best. It was unlucky he didn't get the goal," Rodgers added.
Liverpool are 1.88 favourites to win their next Premier League outing away at Newcastle, who climbed out of the relegation zone with a 2-1 at Spurs on Sunday, next weekend.
Leave a comment