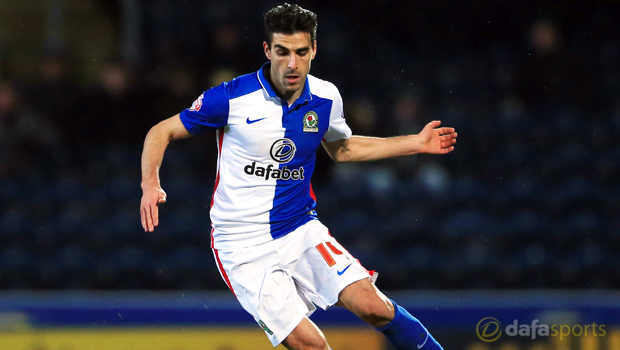 Blackburn Rovers manager Paul Lambert believes Sunderland loanee Jordi Gomez is "world class" following his performance in Saturday's victory over MK Dons.
Gomez was struggling to impose himself with Sunderland in the first half of this season but has had an immediate impact at Ewood Park since arriving on loan in January.
The former Espanyol man has netted three times in five outings with two of those strikes coming in Saturday's victory.
Rovers boss Lambert has recently admitted he's still cautious his side will get dragged into a relegation battle but Saturday's 3-2 win helped to give them an eight- point cushion to the bottom three.
The Lancashire outfit, who are priced at 51.00 to be relegated, fell behind against their fellow strugglers when Samir Carruthers put MK Dons ahead in the first half.
Lambert's men got back on terms when Gomez headed home early in the second half before Elliott Bennett bagged his first for the club to put Rovers ahead.
The travelling side looked to have nicked a point when Alex Revell tapped home late on, but Gomez was to have the final say as he executed a wonderful 30-yard free kick.
The former Villa boss was full of praise for his matchwinner, while he admitted he was happy to see a much-improved second-half performance from his troops.
Lambert said: "Oh for goodness sake, it was world-class. I mean as good as Payet's was here the other week, that was up there with it. That was an absolute, genuine world-class free-kick.
"[Jordi] Gomez as I said before, has been terrific. Jordi plays the game as if it's really natural to him – all top players do that.
"He's technically excellent on the ball. Even his first goal was a brilliant header. The second goal was genuine world class. We're thankful that Sunderland have let him come [on loan].
"Delighted obviously with the win.
"First half, we were nowhere near it. I expect better and demand better. Second half, yes."
Leave a comment